Antonin Dvorak (1841-1904) was a Czech composer who simultaneously exerted substantial influence over the development of American music. 
After extensive persuasion from the National Conservatory of Music, Dvorak travelled to the U.S. in 1892 to direct the school. The president of the conservatory, Jeanette Thurber, wanted Dvorak to found a nationalist, uniquely American style of music (which is ironic because he wasn't American and hadn't spent time in America prior to this visit). He remarked, "The Americans expect great things of me. I am to show them the way into the Promised Land, the realm of a new, independent art, in short a national style of music!" (1).
Dvorak turned to black spirituals and folk music as inspiration for American musical sounds:
"I am of the opinion that African American songs can provide a secure foundation for a new national school of music and I have arrived at the conviction that the young musicians here merely require prudent direction, earnest application, encouragement and the support of the public in order to co-create a new music school" (2). 
Dvorak therefore turned to black student H.T. Burleigh, requesting that he educate him regarding African-American spirituals and plantation songs (1). The New York Philharmonic premiered Dvorak's "New World Symphony" soon after in 1893, and while Dvorak stated that he did not directly quote any Negro spirituals, he extensively studied the songs and attempted to reflect their characteristics in his work (2).
Years later in 1922, William Fisher, a former student of Dvorak's, set to words the quintessential Largo melody from the New World Symphony's second movement. I had actually heard the song, "Goin' Home" (or Going Home), years ago sung by the British boy choir "Libera." At the time, I had no knowledge of the song's history, or of its original inspiration.
Fisher describes the song as follows:
"The Largo, with its haunting English horn solo, is the outpouring of Dvorak's own home-longing, with something of the loneliness of far-off prairie horizons, the faint memory of the red-man's bygone days, and a sense of the tragedy of the black-man as it sings in his "spirituals." Deeper still it is a moving expression of that nostalgia of the soul all human beings feel. That the lyric opening theme of the Largo should spontaneously suggest the words 'Goin' home, goin' home' is natural enough, and that the lines that follow the melody should take the form of a negro spiritual accords with the genesis of the symphony" (3).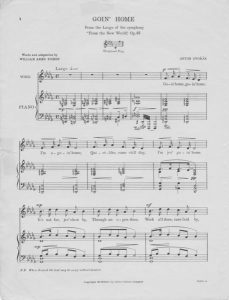 Fisher's description of the melody differs from Dvorak's, making it difficult to discern the intention behind the work. Dvorak initially stated that the symphony was inspired by black folk music, but he never directly quoted its tunes, and rather composed the melody to be universally applicable to all Americans. However, William Fisher, whose history included arranging countless negro spirituals, printed "Goin' Home" in stereotypically black dialect ("I'm jes' goin' home). While Fisher was clearly appropriating black spirituals, he wasn't technically using a black melody. Since Dvorak did not use an original spiritual melody, he was not profiting off of black culture in the same way that Fisher was by arranging other spirituals, even though Dvorak's intentions were nonetheless problematic.
The message and connotations of "Goin' Home" would have been different had Dvorak pulled the Largo's melody directly from a black folk tune. It still would have constituted appropriation, but it also would have highlighted authentic folk music from a marginalized community on an international platform. By coming up with his own melody, Dvorak was not truly authentic and American; this would have been essentially impossible given that he was not innately familiar with black folk traditions. My main argument is that neither option would have been a great choice for Dvorak and Fisher, but the fact that the New World Symphony and Goin' Home's melody isn't a literal negro spiritual changes its connotations.
Döge, K.  (2001). Dvořák, Antonín.

Grove Music Online.

Retrieved 16 Oct. 2019, from

https://www.oxfordmusiconline.com/grovemusic/view/10.1093/gmo/9781561592630.001.0001/omo-9781561592630-e-0000051222

.

(2005). Dvorak and New York. Retrieved 16 Oct. 2019, from http://www.antonin-dvorak.cz/en/new-york
Dvorak, Anton, Fisher, William A. Goin' home- medium voice in D flat. Boston: Oliver Ditson Company, 1922 https://search.alexanderstreet.com/view/work/bibliographic_entity%7Cdocument%7C3399955#page/6/mode/1/chapter/bibliographic_entity%7Cdocument%7C3399955