The Puritan tradition of Sacred Harp singing has stayed in the back of my mind over the past few days. Particularly, the way it moved to Appalachia after avoiding reform in Plymouth Colony. But I wondered if any black musicians or congregations ever picked up on the shape note tradition.
After searching "Sacred Harp" in the Defender database, I was met with a 1973 advertisement for a performance produced by the Smithsonian's Division of Performing Arts. The concert, presented in Chicago's celebrated Auditorium Theatre, showcased folk artists from around the country including big names like Pete Seeger. Also featured on the line-up was "the Sacred Harp Singing Group", a black shape note ensemble that called Shiloh Missionary Baptist Church its home.1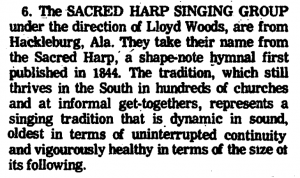 This summer, I spent a good amount of time reading through Defender articles that recounted some aspect of Chicago musical life from 1900-1930. One of the biggest takeaways was that churches in predominantly black communities became musical epicenters for a variety of genres. It was not uncommon for touring black musicians to make their Chicago debut in a church, or for sizable black music societies to hold their weekly meetings in one. Based on the reporting of Nora Douglas Holt2, Shiloh Baptist Church was one of these musical epicenters. The 1973 ad says that the tradition "thrives in the South in hundreds of churches and at informal get-togethers."3
Listen to this 1977 recording starting at about a minute in. This shape note recording has many similar elements to that of the Irish group we heard. Though, what's especially interesting is the tone production. While the timbre is forward sounding in both, the tone in the Baptist Church recording sounds like it has been influenced by other styles. I wonder where the lineage of shape note singing fits into that of other religiously inspired music in black churches. Where were the first black shape note singers singing? And what can we learn from the history of Sacred Harp music in non-Puritan worship?