Eileen Southern, a professor at Harvard University, explains that slaves in the southern United States "engaged in 'swapping tales', and singing songs, particularly about Brer Rabbit and his animal friends […]. The Slaves sang about the adventures of animals and about the experiences of their Biblical heroes, but not about themselves. It may well be that the simple, unvarying routines of slave-life precluded the development of a song type dependent upon the adventures of a hero or heroine [1]." Leslie Ruth argues Brer Rabbit stories, "have communicated the values and experiences of enslaved Africans and of indigenous African American culture. Brer Rabbit stories are a projection of the slave's personal experiences, dreams and hopes, and reveal more about slave culture than… whole books on slavery by experts […]. In these stories, Brer Rabbit, an accomplished musician, songster, and dancer, successful lady's man, skilled farmer, and shrewd strategist, engages in struggles with adversaries, such as Brer Wolf and Brer Fox, as well as conflicts with friends, such as Brer Possum and Brer Squirrel [2]." He is a symbol of how the little one can get the best of those stronger than himself. What I would like to examine is how the Brer Rabbit stories, with their ideas of protecting the small and weak against the big and powerful, relate to Fayette County's Operation Freedom movement in the year of 1962. 
Operation Freedom was an organization who truly embodied the idea of protecting the weak against the powerful. It was an organization which provided emergency funds to "thousands of people in the south- people both black and white who [took] a stand for justice and [found] themselves faced with starvation because those in power want[ed] to drive them out. It [was] a weapon for people in the freedom struggle; it [was] a way of helping individuals who [were] under attack so they [could] continue to fight [3]."  I discovered a pamphlet for Operation Freedom in which Fannie Lou Hamer urges people to donate money for the cause. The pamphlet includes first-hand accounts of what people were going through during the tumultuous 1960s. 
The pamphlet talks about a "tent city" that has been set up in Fayette County, Tennessee. It was a place where people lived who had forcibly been cast out by their employer- landowners. The people had no land to live on, and no place to plant crops. The few African American families who owned their own farms were also unable to plant crops because they were not allowed to borrow money to buy seed, fertilizer, and other necessities while the crops were growing. Operation Freedom provided floors for the tents, replaced broken tents, and financed a well. The organization also tried to help farmers buy land and farm equipment- donating over $42,000 to 95 people in 1960.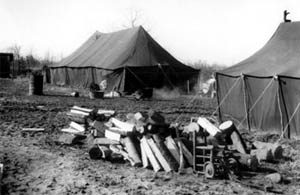 Despite their efforts, Operation Freedom had many obstacles against them. Many of the evictions that led to the tent cities were directed toward black people who had registered to vote. The pamphlet claims "White citizens councils and similar groups, which last year had compiled names of registered negroes and circulated them to bankers, merchants, doctors, now developed a new strategy- that of trying to reduce the Negro population. So, eviction notices are being given to Negroes who have not registered, as well as those who have [3]." In an article by the Chicago Defender [4]: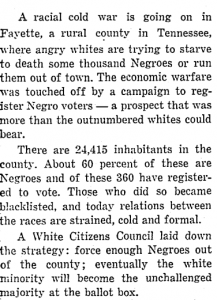 Basic needs like medical and dental care were being denied to the black community- and people were often forced to go to Memphis (a distance of 40-50 miles with no means of transportation)- even in emergency situations.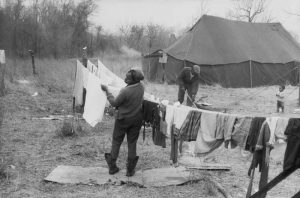 When I discover what took place in Fayette County, I was shocked and deeply saddened. It is disheartening to think just how recently this situation occurred, and it makes sense as to why the stories of Brer Rabbit are so relevant to the African American community. Leslie Ruth believes Brer Rabbit's tricks are basically "'survival strategies' of an enslaved people exposed to violence, injustice, and arbitrary judgment, and tricks assault Western Christian sanctioned morals in that 'the characteristic spirit of these tales was one not of moral judgement but of vicarious triumph' [2]." I imagine survival was constantly on the minds of the people in these tent cities.
In the Chicago Defender, there is a message of hope- it seems as though many people thought what was happening in Fayette County was wrong. The article ends by saying "a whole community is being driven to desperation, to economic ruin and the Governor of the state does nothing about it. He is either a party to the conspiracy to drive the negro voters out of Fayette county, or his political commitments have dulled his sense of responsibility. The federal government of Fayette county should declare this troubled county of Tennessee a disaster area and institute at once the measures of relief. This, at least, would show that the boycott would have no stamp of approval in Washington [4]."
At the root of Brer Rabbit and Operation Breakthrough is a message of hope, and the Chicago Defender confirms this hope. Throughout the stories of Brer Rabbit, there is a constant theme of fighting against the big and powerful. This is mirrored in what we see with Operation Breakthrough's efforts and the Chicago Defender's efforts to support evicted and ballot-less African Americans. All three of these writings should encourage us to stand up for the weaker man, speak out when something is not right, and support the people around us regardless of their race.  
Sources
[1] Southern, Eileen. The Music of Black Americans. W. W. Norton & Company, 1997.
[2] Leslie, A. R. (1997). Brer rabbit, a play of the human spirit: Recreating black culture through brer rabbit stories. The International Journal of Sociology and Social Policy, 17(6), 59-83.
[3] Operation Breakthrough. "Action for Freedom," 1962.
[4] The Boycott in Fayette County. (1960, Jul 16). The Chicago Defender (National Edition) (1921-1967).