Let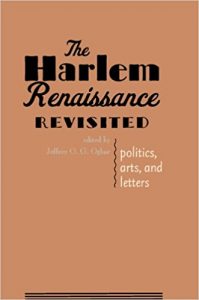 me begin this post by apologizing for where I've acquired my artifact of the week. The assigned library to dig through was the Halvorson Music LIbrary, but while browsing St. Olaf's Catalyst I found a book that I feel would be too valuable to our learning and the theme of this course not to write a post on. The Harlem Renaissance Revisited: Politics, Arts, and Letters by Jeffrey Ogbonna Green Ogbar is an amazing resource for anyone interested in looking at the Harlem Renaissance as a time period, or simply a person who wants to look at African-American identity and racial tensions in the United States in the 20th century. The book is made up of single chapters written by many different authors in order to cover a wide variety of topics and give readers a comprehensive view of the many different ways to view the problems addressed. The author divides these chapters into five different sections: Aesthetics and the New Negro, Class and Place in Harlem, Literary Icons Reconsidered, Gender Constructions, and Politics and the New Negro. Ogbar writes in his introduction of the book:
"This volume brings together fresh perspectives from recent scholarship on the Harlem Renaissance. Although it covers only part of the story, it asks again what the Harlem Renaissance was all about, especially in terms of its major figures and its arts, letters and political landscape."
I would highly recommend to anyone looking into any related topics for their papers to visit this book as a potential resource as there are many different scholarly voices present and though music isn't the primary focus of this book, it does touch upon popular figures such as Gershwin and Ellington, but more importantly, as is written in the introductions, the book articulates the major figures of the time as well as the political landscape in which a lot of the music we're studying was written and produced.
Ogbar, Jeffrey Ogbonna Green. The Harlem Renaissance Revisited : Politics, Arts, and Letters. Baltimore [Md.]: Johns Hopkins University Press, 2010.