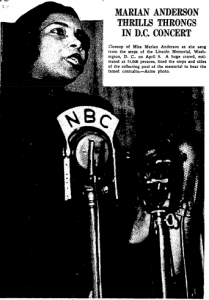 Marian Anderson was an incredibly accomplished African American opera singer, having performed for European royalty, even garnering a song written specifically for her by Finnish composer Jean Sibelius. Her success in Europe was welcomed back home in the States with a debut at Carnegie Hall in 1935. However, her decorated performance history was not invincible to America's racism. Like any other African American, Anderson was restricted to use of "colored only" waiting rooms, hotels, and train cars.
The Chicago Defender reported on Marian Anderson's iconic performance on the steps of the Lincoln Memorial. Howard University and Anderson's manager arranged for her to perform at Constitution Hall in Washington D.C., but were met with common racial bias of the time. The Daughters of the American Revolution owned the hall and refused to host her, likely because of her race. In response, Eleanor Roosevelt and the Marian Anderson Committee made alternative arrangements for Anderson to perform on the steps of the Lincoln Memorial on Easter Sunday of 1939.
Her first set of songs opened with "My Country 'Tis of Thee," followed by standards from the classical repertoire. However, the real defiance came after intermission, in which Anderson performed a set of spirituals. Because of the history that spirituals hold, Anderson was essentially making a political statement that she would not let the barriers of racism hold her back from performing for the masses (in fact, there were 75,000 people at this performance). Having built a career off of opera, singing spirituals and closing the concert with an encore of "Nobody Knows de Trouble I've Seen" showed her strength in her refusal to be held back by racial bias of the time.
"MARIAN ANDERSON SINGS TO 75,000 IN OPEN AIR RECITAL." 1939.The Chicago Defender (National Edition) (1921-1967), Apr 15, 1. https://search-proquest-com.ezproxy.stolaf.edu/docview/492549785?accountid=351.
"Marian Anderson: Musical Icon." PBS, Public Broadcasting Service,
www.pbs.org/wgbh/americanexperience/features/eleanor-anderson/.