Little Richard achieved international fame in 1955 with the release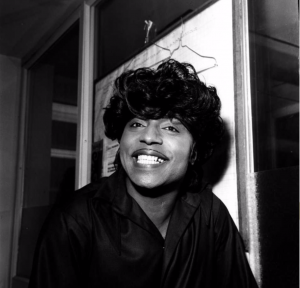 of his hit single "Tutti Frutti."  His unique sound, blending aspects of rhythm and blues and boogie woogie, came to be known as "rock and roll," and marked the beginning of an exciting new trend in American popular music.  Despite Little Richard's extraordinary success and far-reaching influence, he experienced significant resistance when trying to create a music that was palatable to white audiences.  
In an interview with Andy Gill, Richard described some of the frustrations he had with  record companies early on in his career: "They wanted me to sound like other people, to be a blues singer. I had this other thing, they'd never heard nothin' like it, so they was afraid of it. But when I went to Specialty with Awopbopaloobopalopbamboom! they said, 'OK!' " (Rip It Up). Hesitancy on the part of record companies to endorse Little Richard's unique new style illustrates a racial bias in the popular music industry: they believed that a African-American popular musicians could only sing the blues, and that a black artist singing anything else would not be financially successful.  When Specialty published "Tutti Frutti" in 1955, however, the exact opposite proved to be true, with the track rocketing to No. 2 on Billboard's Rhythm and Blues chart and No. 17 on Billboard's Hot 100.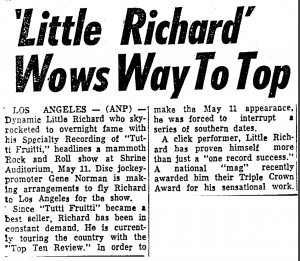 Little Richard also had to combat racist attitudes when crafting his band's public image.  White audie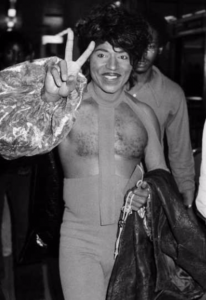 nces oftentimes stereotyped black men as lascivious sexual predators, and white men often discouraged their wives from attending concerts by black artists such as Little Richard.  To subvert this harmful and untrue stereotype, Richard cultivated an effeminate, androgynous image, attempting to convince audiences that he and his bandmates were gay.  He wore heavy makeup and hairspray and donned flamboyant clothing, all in the name of crafting an image that was "palatable" to white audiences.
Although Little Richard was clearly one of the first rockers, white artists like Elvis Presley are more frequently celebrated as the early leaders of the genre.  To this day, Little Richard's legacy continues to struggle against the racist structures that he struggled with during his life.  It is important that we keep these structures in mind when we study the popular music of America.
Sources
Brown, David P. Noise Orders: Jazz, Improvisation, and Architecture. University of Minnesota Press, 2006. ProQuest Ebook Central, accessed 17 Oct. 2017.
https://open.spotify.com/track/4ZnqFqoT9TFKWR6fUmrmhoGaines, Grady. I've Been Out There: On the Road with Legends of Rock 'n' Roll. Texas A&M University Press, 2015. ProQuest Ebook Central, accessed 17 Oct. 2017.
Little Richard. Mirrorpix Photographic Archive, 1966. Popular Culture in Britain and America, 1950-1975, accessed 17 Oct. 2017.
"Little Richard Scores Triumph." The Chicago Defender (National edition) (1921-1967): 14. 02 Jun. 1956. ProQuest, accessed 17 Oct. 2017 .
"'Little Richard' Wows Way to Top." The Chicago Defender (National edition) (1921-1967): 17. 12 May 1956. ProQuest, accessed 17 Oct. 2017 .
Rip it Up: The Black Experience in Rock 'n Roll. Edited by Kandia Crazy Horse. Palgrave Macmillan, 2006. ProQuest Ebook Central, accessed 17 Oct. 2017.