In her book entitled Sinful Tunes and Spirituals, Dena J. Epstein explores black folk music in the United States up til the civil war. The tunes analyzed are all slave songs that have been notated on musical staff paper, something that is inherently separate from the traditio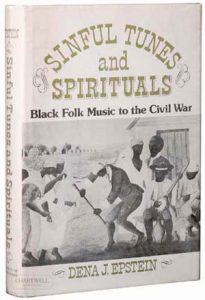 ns that black folk musicians established in their practice. These songs were all sung by slaves, mostly in the fields where they worked. Sometimes these songs were used to communicate messages, making use of metaphors or other poetic techniques that disguised their meanings to the slave owners that may have heard them, but to other slaves, the message would be clear. Through this kind of code, a sort of secretive communication started to develop. I believe that this book would make an excellent contribution to the museum exhibit because it provides high-quality scholarly insight into the history of black folk music and makes use of artifacts leftover from that time period where some of these songs were recorded in our standard western musical notation. This book also makes use of images to provide a supplemental visual aid to the reader to be able to picture the events and the parts of history that are described within it. Furthermore, there are tons of scores contained within the book, so if one wanted to attempt to recreate these songs in the present day, it would be possible to do so to some extent. Obviously, like we've mentioned in class, there are lots of stylistic performance techniques that are lost in the process of notating these songs, but having the notes at least preserves it in some sense as to not let it die out.
Epstein, Dena J. Sinful Tunes and Spirituals : Black Folk Music to the Civil War. Urbana, University of Illinois Press, 1977.