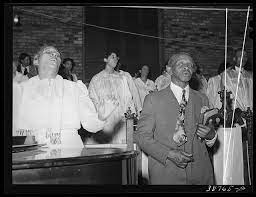 White supremacy holds its roots in American music, specifically through the harmful tradition of cultural appropriation and assimilation. This instance is prevalent through multiple examples, but I will be discussing the issue of the enforcement of African American people into Christianity. By glancing into the deep history of African religions, it is obvious how diversified and vast religion seemed to be. With a variety of polytheistic religions with some Islamic influence, religion was a space encompassed by the natural and spiritual worlds. Through colonization and slavery, the European mode of Christianity began to engulf African spirituality. Though the strength and resilience of these enslaved men and women led to the cultivation of "the rites, rituals, and cosmologies of Africa in America through stories, healing arts, song, and other forms of cultural expression, creating a spiritual space apart from the white European world" (Sambol-Tosco). In terms of these rituals, one of which is ever present is the tradition of Gospel music. This genre was the gateway to combine the influential protestant tradition with cultural expressions of African culture such as call and response, improvisation, expressive rhythm, chants, dance, and storytelling. Through the Chicago Defender, I found an article outlining the history of gospel music and how black culture and freedom led to the genre's flourishing. Specifically, the photo shown below from 1941 depicts one of the many gospel choirs still represented today.
The root of African American gospel music emerged alongside other 19th and 20th-century genres such as ragtime, blues, jazz, and even black spirituals from earlier centuries. The songbook, A Collection of Spiritual Songs and Hymns, was the first hymnal written for African American worship. These arrangements were full of syncopated rhythms, improvisation, and shout traditions. One of the most prolific composers and performers of the said genre is the Father of Gospel Music, Thomas Andrew Dorsey. Born in 1899, Dorsey was the son of a revivalist preacher and grew up surrounded by the influence of blues pianists in Atlanta, Georgia. He is known today as the father of gospel music due to his compositions that have long become prevalent in gospel standards, such as Precious Lord, Take My Hand, Peace in the Valley, and Trouble About My Soul. 
Gospel tradition spread throughout Chicago due to the urges from the Chicago Defender during the Great Migration for African Americans to travel north. Dorsey was one of these individuals convinced to establish roots in this city and he took strides to tour with Jazz musicians such as Mahalia Jackson, Sally, Martin, and Ma Rainey. One album that was recorded by Dorsey was his vinyl entitled "Thomas Andrew Dorsey – The Maestro Sings" distributed by Sound of Gospel Records in 1980. After listening to a few of the recordings listed, the influences of jazz and blues become abundantly clear. Below is a recording of his song Precious Lord which includes a small sermon as the introduction and then the music, which consists of all of the elements previously mentioned, such as syncopated rhythms, shout, and blue notes. 
To refer back to the discussion of the assimilation of European Christianity, I present Gospel music as an example of black resilience and as a musical genre created by the combination of black culture and the Protestant faith. Gospel music has become an extraordinarily influential and essential part of African American music as it was created partly to establish a practice separate from enslavers. As the writer and producer, Stacey Robinson, of The Birth of Gospel, a Chicago Stories show, accurately states, "I hope when audiences see this, they realize that spirituality is at the base of our humanity. The Black church was so important and allowed us ways to get through slavery, Jim Crow, and help sustain us during the Civil Rights Movement and it continues to be a source today" (Sanders).
Citations
The Editors of Encyclopaedia Britannica. (2022). Thomas Andrew Dorsey. Encyclopaedia Britannica. Retrieved November 23, 2022, from https://www.britannica.com/biography/Thomas-Andrew-Dorsey
Gorlinski, V. (2022). Gospel music. Encyclopaedia Britannica. Retrieved November 23, 2022, from https://www.britannica.com/topic/gospel-music
Sambol-Tosco, K. (n.d.). Slavery and the making of america . the slave experience: Religion: PBS. Slavery and the Making of America . The Slave Experience: Religion | PBS. Retrieved November 23, 2022, from https://www.thirteen.org/wnet/slavery/experience/religion/history.html
Sanders , D. (2022, May 4). The "Birth of gospel" highlights Chicago's rich history in gospel music. Chicago Defender. Retrieved November 23, 2022, from https://chicagodefender.com/the-birth-of-gospel-highlights-chicagos-rich-history-in-gospel-music/
Thomas A. Dorsey – The Maestro sings. Discogs. (1980, January 1). Retrieved November 23, 2022, from https://www.discogs.com/release/9299396-Thomas-A-Dorsey-The-Maestro-Sings
Gospel Nostalgia. (2014, May 3). "precious lord" (1980) Thomas Dorsey. YouTube. Retrieved November 23, 2022, from https://www.youtube.com/watch?v=V2ySfuUCbyA