What does a beach town with a nationally renowned aquarium and Chicagoan jazz legends like Thelonious Monk have in common? If you are a jazz musician today and don't live under a rock, you might know the answer – the Monterey Jazz Festival, one of the biggest and most prestigious jazz festivals in the country. Founded in 1958, it is the longest continuously-running jazz festival in the world, and, today, only the best of the best of professional jazz musicians get invited to perform (1).
The Festival was co-founded by Ralph Gleason, a jazz critic for the San Francisco Chronicle, and Jimmy Lyons, a jazz disc jockey. It took them over two years to organize the first festival, but they worked on overdrive to book jazz musicians from all the major jazz epicenters, like New Orleans, Harlem, and Chicago (2). In the very first festival, the two pulled the likes of Louis Armstrong, Billie Holiday (whose particular performance became famous, especially since she died suddenly about nine months later), and Dave Brubeck, who coined and was the first supporter of the idea of the festival (1).
Seen in newspaper articles from the Chicago Defender, there was not only considerable effort made by the festival to recruit top talent in jazz, but also efforts made to uplift the communities that the musicians hailed from and where there were fans. Check out this article advertising the musicians in the 1961 festival (3) and 1963 festival, which included Thelonious Monk (4):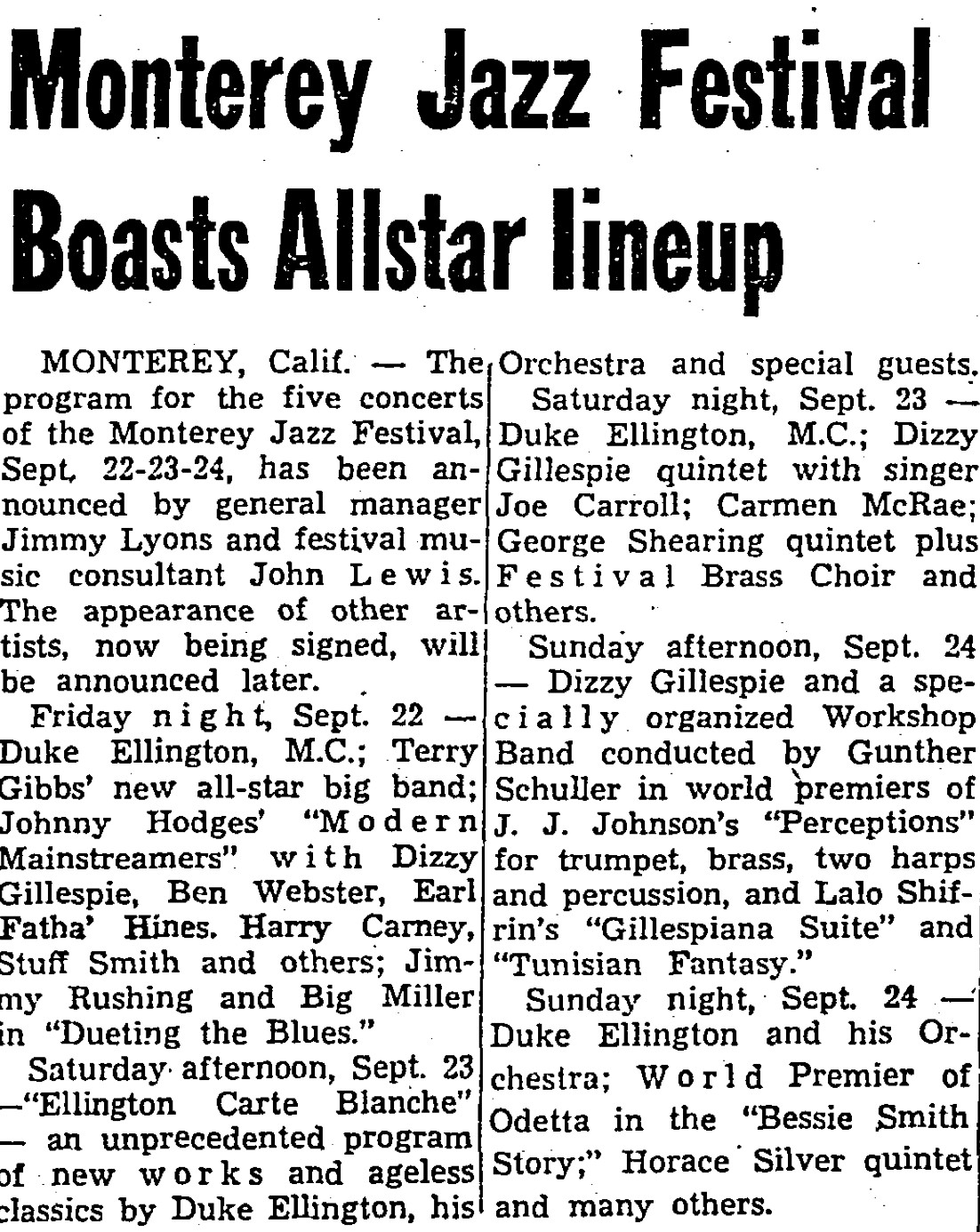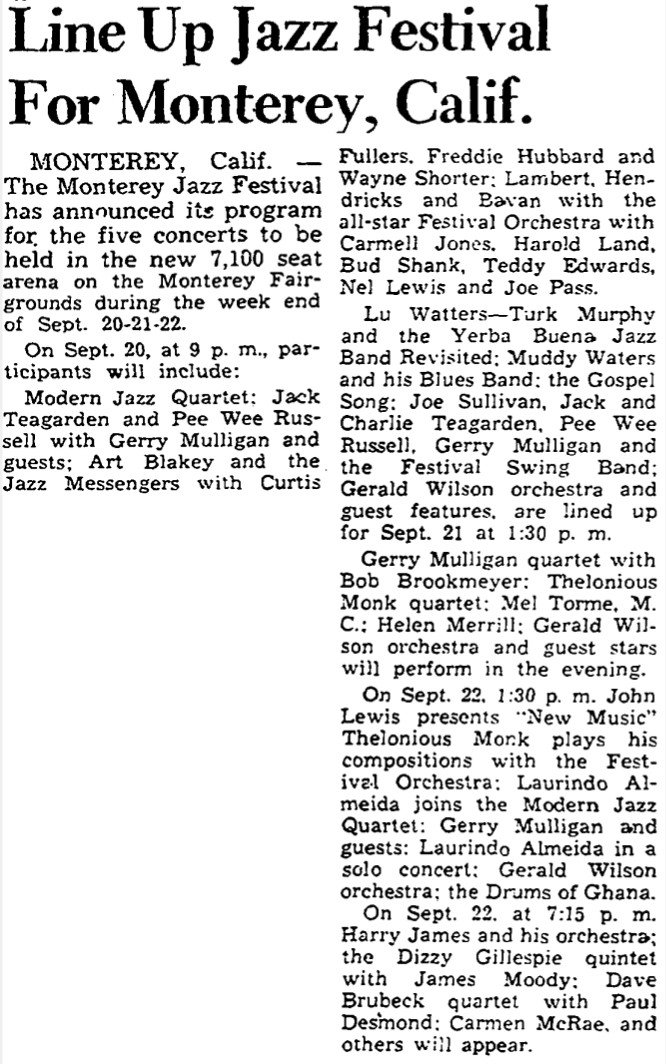 The jazz festival has been popular for years, and has drawn as many as 40,000 people over the three days per year. It has also implemented programs for outreach, including funding music scholarships at the Monterey Peninsula College and Berklee College of Music, a summer jazz camp for students, and honor ensembles, including a big band, a vocal jazz ensemble, and women-only combos. Another outreach program of the festival is its Next Generation Jazz Festival, in which big bands, combos, singers, and jazz choirs from schools and universities across the country compete to even make it into the prestigious three-day event (5). This festival is especially cool for me because I was lucky enough to get to perform at it in high school with my vocal jazz ensemble! (I'm pretty sure we got close to the bottom of the competition rankings, though: California has a pretty fantastic jazz scene, both in general and at high schools.)
Sources:
(1) "Monterey Jazz Festival." Wikipedia. Wikimedia Foundation, November 16, 2022. https://en.wikipedia.org/wiki/Monterey_Jazz_Festival.
(2) "The Monterey Jazz Festival Collection." Spotlight at Stanford. Accessed November 20, 2022. https://exhibits.stanford.edu/mjf.
(3) Monterey jazz festival boasts allstar lineup(2). 1961. The Chicago Defender (National edition) (1921-1967), Aug 19, 1961. https://www.proquest.com/historical-newspapers/monterey-jazz-festival-boasts-allstar-lineup-2/docview/492970249/se-2 (accessed November 21, 2022).
(4) Line up jazz festival for monterey, calif. 1963. Chicago Daily Defender (Daily Edition) (1960-1973), Aug 26, 1963. https://www.proquest.com/historical-newspapers/line-up-jazz-festival-monterey-calif/docview/493965032/se-2 (accessed November 21, 2022).
(5) "JazzReach – Education – 65th Annual Monterey Jazz Festival." Monterey Jazz Festival. Accessed November 21, 2022. https://montereyjazzfestival.org/education/program/jazzreach/.