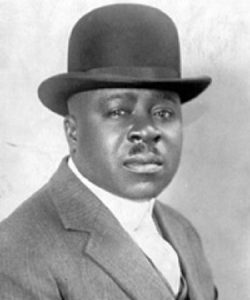 A self made millionaire, Robert Sengstacke Abbott trained as a lawyer and turned to newspaper publishing after two years of practicing law in Indiana and Kansas. Despite Abbott's shift in career direction, his work remained rooted in social justice and an unwavering commitment to making life better for the many African Americans leaving the south and heading north during what is known as The Great Migration. While none of the nine original goals of his newspaper, The Chicago Defender, speak to the proliferation of African American musicians, composers and conductors, the existence of his newspaper provided exposure for thousands of African American musicians who would otherwise have been forgotten. Abbott's efforts were recognized nationally and included in the Encyclopedia of Chicago website noting, "The Chicago Defender promoted black fine arts and publicized the works of artists and the institutions that supported and nurtured their creativity." Even though Abbott's newspaper was not established to nurture blossoming African American musicians at the time, it inadvertently was the singular catalyst for popularizing many of the black musicians we know and love today. This includes greats like Margaret Bonds, King Oliver, Louis Armstrong and Josephine Baker. Sarah A. Waits in her theses and dissertation, "'Listen to The Wild Discord': Jazz in the Chicago Defender and the Louisiana Weekly, 1925-1929," confirms the subtle promotion for African American musicians when she writes, "By highlighting the gigs and engagements of New Orleans-born musicians, and of orchestras that played New Orleans-style jazz, musicians in New Orleans were aware of the economic and popular successes of former residents" (Waits, 17). 
Abbott termed the nine original goals of his newspaper the Bible, and tied his entrepreneurship to the health, safety, civil rights and expansion of African Americans and their cultural roots. This publication contributed to The Great Migration with Abbott heroically using his skill, knowledge and desire to help African Amercians dream of a life outside the Jim Crow South. In establishing, publishing and distributing information about African American representation, careers and artistic cultural events, Abbott shared a vision of what awaited them in the north and introduced them to those African Americans who were living out their dream of composing and performing in the arts and redefining the field for all.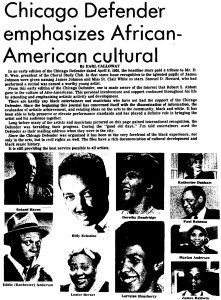 In 1975, newspaper journalist Earl Calloway, widely known as the Fine Arts Editor and a columnist for The Chicago Daily Defender, wrote a short column regarding The Chicgao Defender newspaper putting specific emphasis on African American culture. The title of the article does not do justice to Mr. Calloway's writing because of the emphasis on black entertainers and musicians in the text. Mr. Calloway begins the article by referencing earlier editions of The Chicago Defender highlighting African American musicians and composers such as the infamous James P. Johnson, a revolutionary pianist who was a major part of the transition from ragtime to jazz music, his pupils, as well as other young talented black artists at the time. Mr. Calloway recognizes Mr. Abbott and his contributions as well as how his "personal involvement and support continued throughout his life by attending and emphasizing artistic activity and development" in African American individuals (Calloway). Calloway further expands on the fact that there are little to no black musicians who haven't been touched and carry the support from The Chicago Defender. Mr. Abbott's newspaper was not only a wide success for the African American community in its fight for civil rights, it was also a newspaper that featured and amplified black excellence, something many newspaper companies and publishers are still mastering to this day. Calloway concludes his article with the names and pictures of ten talented and noteworthy African American musicians, including the famous African American lyric tenor and composer, Roland Hayes. Mr. Calloway's final words from his article fill the reader with hope and a sense of certainty that The Chicago Defender will always recognize and uplift black musicians in their continued fight for equal opportunity around performing, access to venues, and the right to earn a living and even profit from their creative talents.  Thankfully, Abbott was educated as a lawyer but gave up practicing law to establish a newspaper that uplifted and created a platform to achieve greater justice for all African Americans.
Works Cited
Calloway, Earl. "Chicago Defender emphasizes African-American cultural." Chicago Defender (Daily Edition) (1973-), May 05, 1975, pp. 69. ProQuest, https://www.proquest.com/historical-newspapers/chicago-defender-emphasizes-african-american/docview/494124522/se-2. 
Chicago Black Renaissance, http://www.encyclopedia.chicagohistory.org/pages/240.html. 
Tamblyn, contributed by: George. "Robert Sengstacke Abbott (1870-1940) •." •, 15 Nov. 2020, https://www.blackpast.org/african-american-history/abbott-robert-sengstacke-1870-1940/. 
Waits, Sarah  A. 'Listen to The Wild Discord': Jazz in the Chicago Defender and the Louisiana Weekly, 1925-1929, https://scholarworks.uno.edu/cgi/viewcontent.cgi?article=2669&context=td.