Since spirituals first gained popularity in the United States – and certainly since they became a common feature of vocal concert repertoire – many theories have been published on their origins. You think those origins are simple? Just read the 1943 George Pullen Jackson paper claiming spirituals were directly plagiarized from British folk songs,1 and you'll realize our apparent shared understanding about the origins of this genre was once far from accepted.
One particularly interesting and egregiously racist perspective on spirituals' origins was written by a Jeanette Robinson Murphy, in 1904.2  Murphy has abhorrent ideas about black people's intelligence and role in society. And she in part attributes the emotional power of spirituals, as she observes it in black communities, to the ongoing influence of voodoo, which is demeaning to black people and disrespectful to the religion. There's no small share of exoticization in her writing, either, if one examines the passages where she describes black people's voices and lives: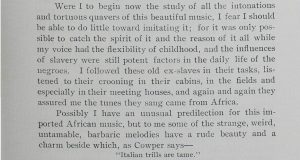 But what's fascinating is that she does acknowledge that the songs originated in black communities, though a product of acculturation and some amount of cultural syncretism, and she doesn't claim (as some have) that black people are incapable of artistry without white influence.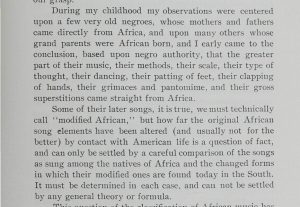 Of course her language here creates an artificial distance between what she categorizes as "black" and "white" music – interesting, considering her acknowledgement of cultural syncretism. But through her racist lens, she's somehow managed to preserve the cultural autonomy of black music in a way some of her contemporaries couldn't. She performs some logical backflips throughout her work to preserve both her racist ideals and her genuine reverence for black music (too many to cite); maybe that logic is the only thing that actuates this dissonance.
But what's even more interesting to me than Murphy as an example of racist psychology is the overlap between the ideas of those such as Murphy and the ideas of their black contemporaries. Murphy emphasizes the deep emotion ingrained in spirituals, and that of the performers; this is a focus her black contemporaries also uplifted. W.E.B DuBois' "Sorrow Songs," for example, connects the emotional potency and universality of spirituals to the generational trauma of slavery, and his assertions about spirituals' direct descent from African folk music are essentially aligned with Murphy's claims.3 Mrs. Booker T. Washington also draws this connection between the emotional resonance of black music and the horrors of slavery in her 1905 address about Fisk University and the Fisk Jubilee singers, given at the Louisiana Purchase Exposition:4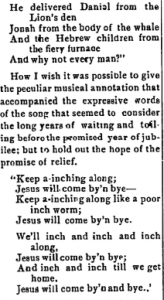 There are undeniable similarities between how Murphy understands and experiences spirituals and how at least these black authors understand and experience spirituals. Whether this is the result of some strategic essentialism, an emerging pan-African concept leading black public figures to emphasize the commonalities of their experiences as black Americans, political maneuvering, or just a genuine shared opinion, I cannot say. But when we're studying music that has associations of "ownership" by one racial group or another, and music that has conflicting origin stories, these are the socio-historical questions we're going to have to get comfortable addressing.
1 Jackson, George Pullen. White and Negro Spirituals: Their Life Span and Kinship. Locust Valley, NY: JJ Augustin Publisher, 1943.