The Fisk Jubilee Singers were the first and premier ensemble of Fisk University in Nashville, TN. The university was founded in 1866 as the first American university which offered a "liberal arts education to men and women irrespective of color"; the Jubilee singers began traveling and performing five years later, in 1871, where they began performing to raise money for the university. They performed for American and British audiences until 1878, including for president-to-be James A. Garfield, from who they received a glowing review and for whom they gave an inscribed version of their book of songs.
A diary entry from President James A. Garfield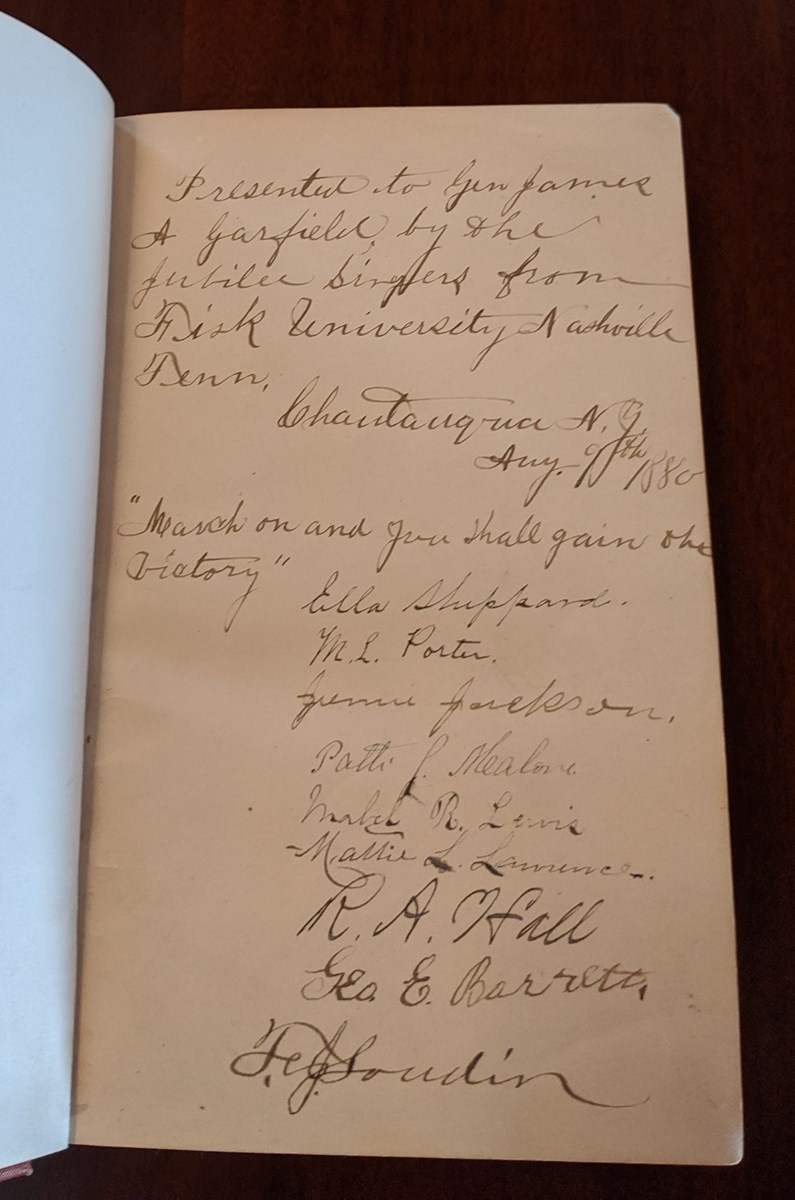 An inscribed version of "The Story of the Jubilee Singers; with their Songs" given to President Garfield as a gift by the ensemble on August 9th, 1880.
Through religious music, the Fisk singers reached audiences never thought to be possible by a group whose members were born into slavery. In 1877, they travelled to Germany on their world tour. In the land of Bach, Beethoven, and Brahms, the Fisk Singers used Christian messages and content to entice audiences to listen. While the Fisk singers made waves in the history of music, it was only through a lens of the music and the religion of the colonizer that they were able to sell themselves. Scholar Toni P. Anderson was the first to provide critical historical scholarship the Fisk singers. As Stephen A. Marini writes in their abstract on Anderson's work, "Anderson's principal contribution is to place Fisk University and the Jubilee Singers in the context of what she calls "Christian Reconstruction," the AMA's militant program of Evangelical religion, liberal education, and acculturation to Victorian values and norms designed to produce proper leaders for the four million newly freed slaves. Immediately after the war, the Congregationalist-led AMA [American Missionary Association] undertook heroic efforts to create Christian colleges in the South to serve the Freedmen. Fisk University in Nashville (1866) was designed by its leaders Adam Spence and Erastus Cravath to be a prime embodiment of this Christian Reconstruction strategy." Fisk University's roots in colonial and Christian traditions enabled the Fisk Jubilee singers to have the success that they had. Were it not for these connections, the Fisk singers would not have been able to sell themselves to religious audiences, especially how they did overseas.
The Fisk Jubilee Singers
[ iframe src="https://www.nps.gov/articles/000/the-fisk-jubilee-singers.htm" width="640″ height="480″ ]
[ iframe src="https://www.cambridge.org/core/journals/church-history/article/tell-them-we-are-singing-for-jesus-the-original-fisk-jubilee-singers-and-christian-reconstruction-18711878-by-toni-p-anderson-macon-ga-mercer-university-press-2010-xvi-299-pp-4500-cloth/5690EDE8C40E531820B003B4020C1F41" width="640″ height="480″ ]
[ iframe src="https://www.si.edu/spotlight/african-american-music/roots-of-african-american-music" width="640″ height="480″ ]
[ iframe src="https://muse.jhu.edu/article/631575" width="640″ height="480″ ]