Francis Densmore was an ethnomusicologist working in the early 20th century to try and save American Indian music which she thought was going extinct. We criticize Densmore's ethnographies of American Indian music because it uses Western musical notation and form, as well as statistics, to try and describe music which it does not reflect accurately. Native musics cannot be accurately represented by Western standards because the songs were not, in the slightest, based on Western musical practices.
So the question arises: how can we more accurately describe Native American musicking? How do we more accurately describe any historical practice that has been put through a process of Westernization? As practitioners of Western musical notation, form, and math ourselves, we may be at a loss for how to represent music, or any of the aforementioned "historical practices" we wish to learn more about or preserve in a way that is true to the culture from which it came without imparting our unconscious bias, embedded in the way that we learn, onto the culture of another. We must do this not for the mere respect of peoples whom the majority of Americans owe our stolen land, but because we must provide more accurate information based of the findings of people like Densmore. We could not do the work we do without the information that she and others like her have gathered, and at the same time we must make this data more accurately represent the history of the culture from which it came, in a way in which we can understand, if we truly believe in the pursuit of the truth.
So, how do we more accurately describe and learn about American Indian music, given that using Western notation does not accurately reflect these cultures? Furthermore, to expand (and with the aim of avoiding generalizations), this goes for the music of individual tribes as well as American Indian music on the whole as well as any music for which Western music does not accurately represent.
If we choose to avoid Western methods, then what should we use? The first thing that comes to mind would be to use the methods which Native Americans themselves use to learn, teach, and depict their music. Pow-wow, for example, is a way in which members of certain tribes pass along information through generations.
Wendake Pow-wow, 2019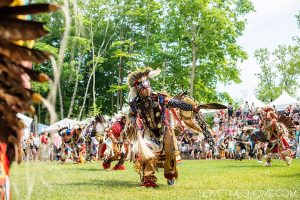 Another method that Native Americans use to depict their music is through pictographs.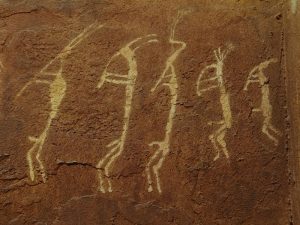 Kokopelli Pictograph
By learning what we are able from a certain culture's portrayal or demonstration of their own art, we can create scholarship about a different culture while avoiding shoehorning their customs into the dimensions of another.  While it may not seem like we can glean much from pictographs, or maybe even pow-wows at first, opening our minds to different expressions of art and culture immerses us more deeply in the lives of other people. It is necessary to go through this process of experiential learning in order to give the correct context for what we discover, not only because it greatly reduces the chances of Westernizing something that is not but also to come to more accurate conclusions.
https://books.google.com/books?id=HyZ6EAAAQBAJ&printsec=frontcover&source=gbs_ge_summary_r&cad=0#v=onepage&q&f=false