Through the digital archives of the American Indian Histories and Cultures, I came across some Akwesasne Notes newspaper articles and as I read through them, this article struck me deeply, especially in juxtaposition to some of the texts and journals we read in class written by European settlers and expansionists.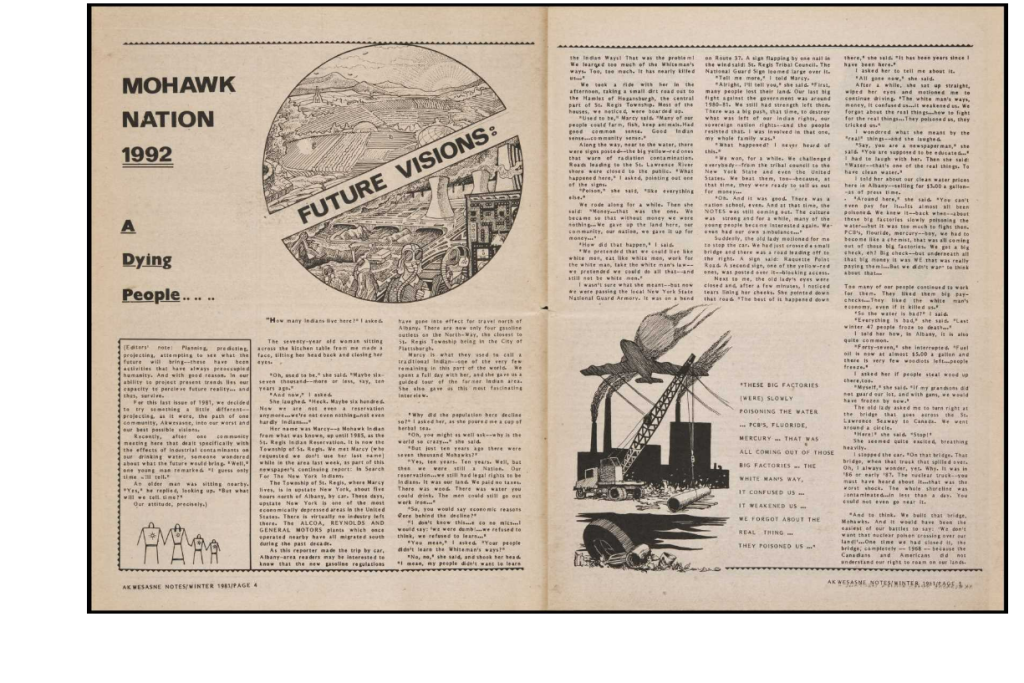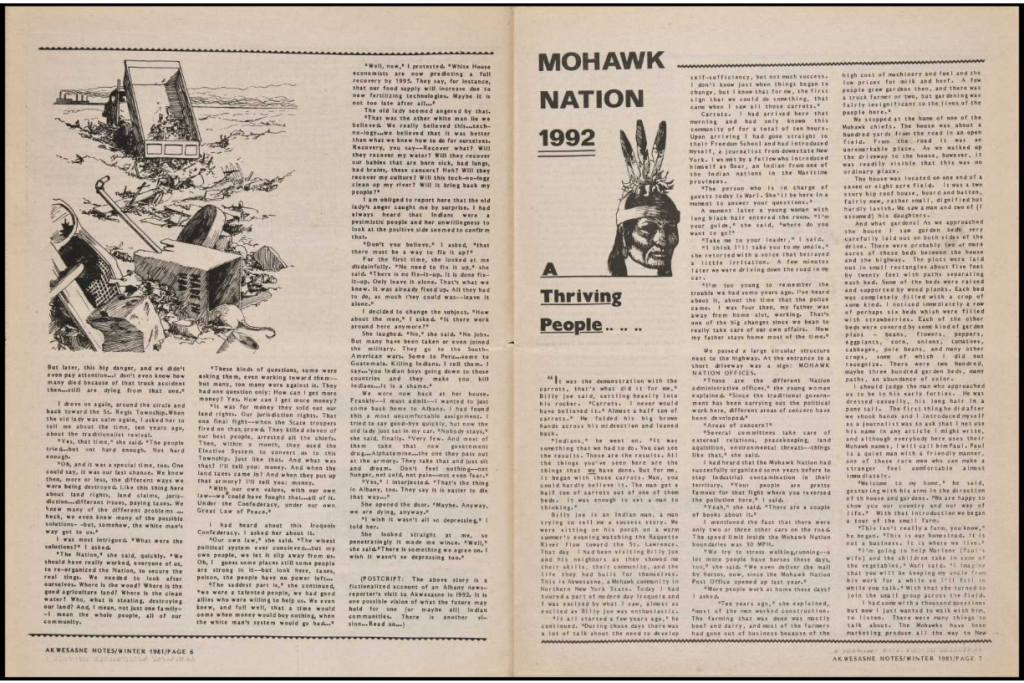 Screenshots of the article titled A Dying People in the Akwesasne Notes, Vol 13, No. 5, Winter 1981.

To begin with, Akwesasne Notes is a newspaper publication of the Mohawk Nation, named after the location Akwesasne, situated between the New York and Canadian borders. The publication first started in 1968 and continued irregularly through 1992 until a hiatus until 1995 in which new series were published until 1997.

In this news article, a journalist from Albany was struck by the state of constant decay at Akwesasne both environmentally and culturally and went around town seeking opinions from some locals. The response he got from Marcy was painful and saddening. Marcy attributed big parts of the cultural disintegration and the fading sense of community towards the young generations' reluctance in learning their own traditions– the white assimilation.


A video documenting the importance of the water bodies in Akwesasne, its pollution and the potential for works of restoration.


"The white man's ways, money, it confused us… it weakened us. We forgot about the real things… How to fight for the real things… They poisoned us, they tricked us." – Marcy

The assimilation process as she described was characterized with deceit and dishonesty, using temporal materialistic gains such as money as bait for natives to abandon their traditional ways and beliefs. The consequences of a collective assimilation was devastating and irreversible. On one hand we see the issue of clashing ideals and different ways of life between the natives and the Americans; on the other hand, there's the question of how to make amends and restore the damage and disruption.

The colonizers, settlers and the United States government in their misguided attempts to "convert", "educate" and "civilize" the Native Americans, failed to acknowledge and respect an alternative way of living and belief system just as valid as their own realities. Marcy in the article wishes the white men to stop using their ways to make amends and instead just leave it alone. Maybe instead of forcing our ways and realities on others, we should make the effort to learn from them, to restore and rebuild the community and cultural heritage in their ways instead of ours.

In terms of folk tunes, poems and music-making, I've seen many attempts in academia to analyze and make sense of Native American music using western music terminology and descriptions. Although it is a gateway of connection, it is still a reluctant refusal to really see and experience a different culture that is different from our realities. I hope in academia, scholars will start becoming more aware of their own positionality and use terminologies accurate of Native American cultures.

Sources:

mdigital.co.uk/Documents/Images/Ayer_Akwesasne_Notes_1981_12Wnt/2?v=1652413313&SessionExpired=True

https://youtu.be/L1ePZtYxy7A

https://onlinebooks.library.upenn.edu/webbin/serial?id=akewsasnenotes

https://www.fold3.com/collection/native-american