When learning more about Indigenous music in the U.S., it is nearly impossible not to come across the work of Frances Densmore. An ethnographer from Red Wing, Minnesota, Densmore spent more than 50 years collecting Indigenous song for the Smithsonian Institution's Bureau of American Ethnography. Students hear a lot about Densmore's work, but what other ethnographic work was out there around the same time, and how does it compare to Densmore's? What does their work tell us about the field as a whole, and what did they do well, or what could have been done better?
To delve into these questions, I investigated the life and work of James Mooney, an ethnographer born in 1861 known as "The Indian Man". Although he didn't collect songs from Indigenous peoples, his work paralleled that of Densmore's in that his writings were published by the Smithsonian Institution and he collected for the World's Fair.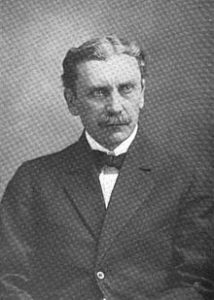 A newspaper clipping written by Lida Rose McCabe describes Mooney's fieldwork:
In pursuing his work among the tribes Mr. Mooney wears Indian dress, and accommodates himself to the family life. In speaking of this he said to me: "Unless you live with a people you cannot know them. It is the only way to learn their ideas and study their character.
In comparison to Densmore, Mooney's work was more more focused to a handful of groups, whereas Densmore collects from many groups across the country. Due to Mooney's smaller group of study, he had the time to develop a deeper understanding of one's culture and customs while forming relationships with members of the tribe.
However, this does not automatically make all of his work ethical. McCabe writes of his work:
Mr. Mooney's special business during the last year has been to collect for the Smithsonian World's Fair exhibit specimens of the domestic and industrial work of the Navajo and Moqui tribes. The esteem in which he is held by the Indians has enabled him to secure everything he desired.
Although Mooney likely cared for the Indigenous people he spent time with, and they likely cared for him, does this mean that he has permission to displace their cultural objects and display them for others? Additionally, we don't know how comfortable tribes felt sharing objects with him, or to what extent sharing impacted their life:
He carries his own camera, but it has to be used cautiously. Only the stanchest friendship justifies him in asking an Indian to pose for his picture, for it is an article of the Indian's faith that but such an act he loses part of his personality, and is therefore very likely to suffer sickness or even death.
Although someone outside of a particular tribe may see a particular object as interesting or worthy of study, the collection of an item may have caused very real consequences to those who shared that object. To combat this these injustices today, we can look towards repatriation initiatives, and be vigilant of the greater context surrounding ethnography.
Works Cited
Parker, Ely Samuel (1828-1895). 1828-1894. Ely Samuel Parker scrapbooks: Vol 11. Available through: Adam Matthew, Marlborough, American Indian Histories and Cultures, http://www.aihc.amdigital.co.uk/Documents/Details/Ayer_Modern_MS_Parker_VL11 [Accessed November 23, 2021].
Rhodes, Willard. "Densmore, Frances." Grove Music Online. 2001; Accessed 23 Nov. 2021. https://www.oxfordmusiconline.com/grovemusic/view/10.1093/gmo/9781561592630.001.0001/omo-9781561592630-e-0000007571.