In many African American music traditions that we have studied thus far, we have seen music as a tool of expression of joy, sorrow, or hope, to name a few. While this class has mainly focused on spirituals, popular music, and sacred music, I was interested in looking at African American expression in classical music. This brought me on a search for sheet music by Samuel Coleridge Taylor, an English composer, conductor, and professor of music during the late 18th century and early 19th century. My question was, "how might Coleridge-Taylor choose to express the topic of race in a musical tradition in which white people have held the power?".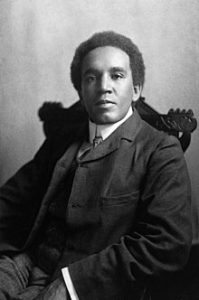 After Coleridge-Taylor met the African American poet P.L. Dunbar in 1897, his music began to focus more on his heritage and his desire to "establish the dignity of African Americans" (Banfield), leading to works such as African Romances (1897) or African Suite for Pianoforte (1898), among others. The work of Coleridge-Taylor that I'm focusing on in this blog post, Five Fairy Ballads, was written in 1909 to poems by Kathleen Easmon, a friend of Coleridge-Taylor and the first West African to earn a diploma from the Royal College of Arts.
I thought that this work was interesting to investigate because of the clear way that Coleridge-Taylor is choosing to use the text of another artist with African heritage. Due to racism, classical music repertoire has been overwhelmingly white for most of its history, despite the fact that many black composers have created masterpieces. The classical music world still has a lot of work to do in terms of representation and inclusivity, but Coleridge-Taylor's music, along with other BIPOC composers of his time, established that it should be a place for everyone. Five Fairy Ballads makes a space for African voices in a world that has silenced them, and invites others to join in.
https://digital.library.temple.edu/digital/collection/p15037coll1/id/6046/rec/6
Works Cited
Banfield, S., Dibble, J., & Laurence, A.  Coleridge-Taylor, Samuel. Grove Music Online. Retrieved 26 Oct. 2021, from https://www.oxfordmusiconline.com/grovemusic/view/10.1093/gmo/9781561592630.001.0001/omo-9781561592630-e-1002248993.