They say a picture is worth a thousand words.
While this well known adage has probably originated in comparatively recent times, the sentiment has existed for centuries. It certainly seems to have been the guiding business strategy of Frank Leslie, founder of Frank Leslie's Illustrated Newspaper, whose success was largely due to the novelty and appeal of illustrations in news reporting. The paper, founded by Leslie in 1855 and printed for another 42 years after his death in 1880, was extremely popular in its day and now regarded as an important source of primary source evidence. In this blog post, I will focus on the extent to which this newspaper is a reliable way to learn about the musical activities of enslaved peoples before the Civil War, using one particular image printed Leslie's 1857 newspaper as a case study.
The image in question is titled "Winter Holydays in the Southern States. Plantation Frolic on Christmas eve" and can be seen below.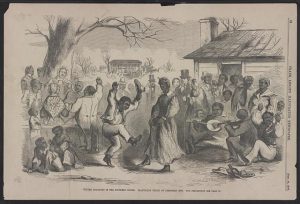 The illustration provides a wealth of detail about what holiday celebration might have looked like on a Southern plantation — central to the image is two black dancers and to the right a group of black musicians, one playing the fiddle and one playing the banjo (or similar instrument). The presence of white onlookers (presumably owners), shows that the celebration was not free of supervision.
The illustration provides strong evidence that enslaved people had and used musical instruments during their time off at celebrations, The musicality of enslaved people can be corroborated with other evidence, for example from colonial newspapers and runaway slave listings, which often make mention of enslaved people's musical abilities on the violin, french horn, and other instruments (Southern). The setting of the musicians in this illustration also gives some evidence of the type of music being performed (most likely dance music). To this extent, the illustration is helpful in knowing some basic information about the musical activities on Southern plantations.
The illustration, however, also has some glaring omissions and hidden biases. One glaring omission is the location that the illustration claims to depict. The only indication provided is that it is on a Southern plantation, an indication that is very vague and generalized, making it easy to assume that that the celebrations of enslaved people were the same throughout the South — a fact that is, in all probability, false. This generalization shows a lack of respect for the musicians and also shows that this image is catered to the white imagination of his audience. Additionally, if a researcher was interested in more specific regional variation of musical practices, the illustration would be of no help at all. Of course, the newspaper's aim wasn't to respect the traditions of enslaved peoples or aid future researchers. The aim was to make money.
Keeping this purpose in mind is especially relevant for this particular publication. From 1855 to 1857, Leslie struggled to keep the newspaper in operation (Pearson). Publications from this time needed to sell. The paper was published in New York, so the audience was probably largely white Northerners, and the image likely caters to this subgroup, attempting to satisfy their curiosity about what life on Southern plantations was like. This could very well affect the way the scene is depicted.
Consequently, the illustrations in Frank Leslie's Illustrated Newspaper are useful primary sources, but only if taken in context. The white audience and need to sell are key biases that must be recognized when working with this type of material, and while perhaps each picture is worth a thousand words, another thousand words may be necessary to analyze reliability of the source.
Bibliography
Pearson, Andrea G. "Frank Leslie's Illustrated Newspaper and Harper's Weekly: Innovation and imitation in nineteenth-century American pictorial reporting." The Journal of Popular Culture 23.4 (1990): 81-111.
Southern, Eileen. The Music of Black Americans: A History. Third Edition. New York, NY. WW Norton Company, 1997.
"Winter Holydays in the Southern States. Plantation Frolic on Christmas eve" Frank Leslie's illustrated newspaper, v. V, no. 108, p. 64. New York, 1857. Library of Congress Prints and Photographs Division Washington, D.C. 20540 USA. https://www.loc.gov/pictures/item/2018646020/