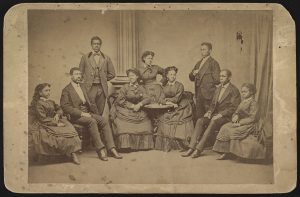 In class we spent a day discussing the origins of "black music" through the lens of white hypothesis. We spent time looking at the maps of slave songs through the states, a collection of southern folk music, as well as a map of the tours that the Fisk Jubilee Singers took in the late 1800s.
I had learned briefly about the Fisk Jubilee Singers back in my freshman musicology class and their story was one of the snippets of information that stuck with me after that class. I'm not entire sure why their story stuck with me. Perhaps it was the relatability to me of using music to afford college or perhaps the biblical reference to the book Leviticus with the history of the "year of Jubilee." Whatever it might be I new I wanted to find out more.
As I researched the Jubilee singers I came to realize that all I had in mind of these strong-willed singers were a mixed gender group of people of color. For all of the time spent in class learning about them I had never stopped to imagine their faces. On top of that their voices never received the chance to be heard by the person learning about how they used their voices. I believe that an important aspect of researching is to create the setting of the topic. While backstory is a great place to begin, do you really know who you are researching. The image I chose was a print of what is believed to be the original Fisk Jubilee Singers. Their names are not encompassed by that title but also Isaac Dickerson, Ben Holmes, Greene Evans, Thomas Rutling, Ella Sheppard, Maggie Porter, Minnie Tate, Jennie Jackson, and Eliza Walker. Upon further research into their music I had come to realize I hadn't listen to them either.
https://www.loc.gov/item/jukebox-128141/?
The link directly above brings you to a recording done by the Fisk Jubilee Singers in 1909. While this isn't the original group of singers and while there isn't a recording of those original singers, the Fisk University Jubilee Singers continue to sing today and uphold the legacy of the Jubilee Singers.
These two different sources allow a researcher to get to know their topic. When you look at the face of a human being and hear their voices, it becomes a personal research. It forces researchers to acknowledge their research topics as real people regardless of how long ago. In our class's ties to discussion on race and identity today it is a reminder of the importance of recognizing people of color as real human beings no matter how long ago they walked this earth. How can we easily conjure up images of George Washington and Ben Franklin but fail to have an image of Crazy Horse (beyond outfits), the Fisk Jubilee Singers, Frederick Douglas, or Robert Smalls?
Citations:
American Missionary Association, photographer by Black, James Wallace. Jubilee singers, Fisk University, Nashville, Tenn. / negative by Black. [Place not identified: Publisher not identified, ?] Photograph. Retrieved from the Library of Congress, <www.loc.gov/item/2015650289/>.
Work, John Wesley, et al. Swing Low, Sweet Chariot. 1909. Audio. Retrieved from the Library of Congress, <www.loc.gov/item/jukebox-128141/>.