During the 1960's, folk music in the United States was gaining popularity. Folk songs accompanied by banjos and guitars that were a staple in the south earlier started to spread northward and found homes in college dorms across the country. One of these colleges happen to be our very own St. Olaf.
When sifting through old articles of the college newspaper, the Manitou Messenger, many stories appear of the folk music tradition on campus. Below, is a snippet from the Manitou Messenger about the traditional Folk Festival St. Olaf used to hold each spring.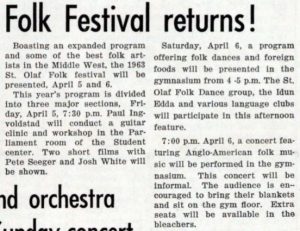 During these festivals, there was a variety of banjo strumming workshops, watching videos of popular folk musicians at the time, performances by the St. Olaf Folk Dance Group and then of course the folk concert, by "some of the best folk artists of the Midwest."1 As a musical campus, it is not surprising for the college to become a folk scene. In Pete Seeger's words, "Whatever people are singing-that's folk music."2 What were the folks at St. Olaf singing? Aside from Beautiful savior, our folk scene brought "Talking St. Olaf Blues" and one "The ballad of Ytterboe" (about a dog, not the dorm), were written by a college student Paul Ingvolstaud in 1963.2 Unfortunately, in true folk song spirit, I have been unable to locate recordings of these.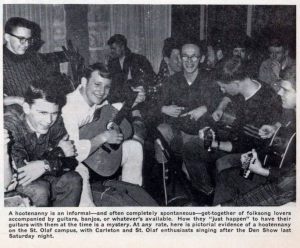 In these campus folk festivals, various campus language clubs set up booths and different cultural food was presented. The St. Olaf Folk Dance Group danced different folk styles, from Scottish to Filipino.2 St. Olaf used the annual folk festival to not only embrace their folk tradition, but traditions of other cultures that made up the college's identity. The revival of folk music and its spreading to colleges reflect its stickiness to the young generation at the time, especially on a campus that is known for their singing.