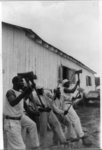 This photograph from the Lomax photography collection, depicting a group of African-American prisoners singing while working in the Darrington State Farm woodyard in Texas, interested me upon first sight as it seemed to me to be familiar to what we have learned about slave-era music and musical functionality despite being shot in 1934. In this photograph is featured "Lightnin'" Washington, an African-American prisoner during this time whose singing was recorded multiple times alongside his group who usually accompanied him in these recordings, also pictured here. The act of physical labor accompanied by singing is a type of functional music very familiar to slave music, specifically work songs, in which slaves would sing to the rhythm of physical labor to keep a consistent work pace and pass the time working, among other things. This photograph shows that such musical tradition had not died out after slavery had ended and likely retained its musical functionality to some extent.  
Washington and his group were some of many African-American musicians during the early twentieth century to have been recorded for the Library of Congress by John Henry Faulk. In 1933, Faulk recorded the group performing a call-response song called "The Grey Goose," which is featured alongside other of Faulk's recordings of African-American music on this CD collection entitled "Field Recordings Vol. 10-11; 1933-1941." These CDs, released in 1998, contains interesting narratives and images along with the cover and descriptions, as it talks of how slavery was "a scathing indictment of human rapacity and greed," while also featuring on the cover a slightly shocking image of an antiquated advertisement for buying slaves alongside large instances of the word "Negroes." The narrative is clearly intended to be a condemnation of the evils of slavery and racism, but certain imagery as well as the fact that it is intended to advertise to people to buy the CD makes it a bit complicated. 
*While I was not able to find a insertable recording of the mentioned song, here is a link to a page containing a recording. Just press "Listen" on the top right of the page. http://kodaly.hnu.edu/song.cfm?id=616#analysis
Sources:
Field Recordings Vols. 10 & 11, 1933-1941. Web. 3 Oct. 2017. <http://search.alexanderstreet.com/view/work/bibliographic_entity%7Cliner_notes%7C313399#page/null/mode/1>.
Lomax, Alan, photographer. ["Lightnin'" Washington, an African American prisoner, singing with his group in the woodyard at Darrington State Farm, Texas]. Apr. Photograph. Retrieved from the Library of Congress, <https://www.loc.gov/item/2007660013/>.