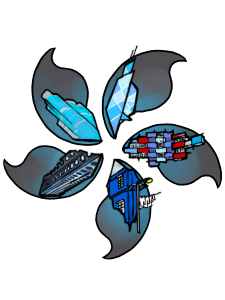 Established in 1981, WWF-HK (世界自然基金會香港分會) has been an integral part of the urban sustainability effort, not only as an independent branch of a global NGO network but also a partner with the local Hong Kong government in managing nature reserves, conserving biodiversity, and advocating for environmental education (WWF-HK). Over the course of two months, our team worked alongside WWF-HK staff in order to gain firsthand experience and a stronger understanding of WWF-HK's mission and works.
WWF works globally, regionally and locally. Our mission is to stop the degradation of our planet's natural environment and build a future in which people can live in harmony with nature. From high-level policy and advocacy work and on-the-ground conservation activities, to public involvement in environmental action and nurturing a green generation, we work with people from every sector and at every level to seek practical solutions which will achieve our goals. We strategically focus on conserving critical places and species that are of particular importance to their habitat or to humanity, and we devise programmes that aim to reduce the negative impacts of human activities.
Hong Kong is a unique place. This small territory is rich in biodiversity and at the same time, as an international finance and trading hub, we are also rich in monetary terms. There is so much to be done – and that can be done – in terms of preserving our local biodiversity, rethinking the way we consume, and educating and empowering people to play a part in conservation.
Together, we can create a sustainable future for humans and nature.
大自然生態的健康掌握著人類的命脈。地球的生態系統和棲息地給予我們乾淨的水源、適合萬物呼吸的空氣、食物、藥物、能源,以及更多其他枚不勝舉。沒有這些珍貴資源,我們便無法生存。若大自然的健康受到威脅,我們亦然。要解決地球正面對的挑戰,我們每個人都要盡一分力量。
本會致力遏止自然環境退化和建立人與大自然共融的未來,投入本地、地區及國際事務。無論是推動政策、實際保育行動,以至鼓勵公眾參與環保事務及培育環保新生代,我們皆與各界人士合作,從不同層面尋求可行方案,達致保育成效。我們採取一貫策略,重點守護對棲息地和人類尤為重要的地方及物種。所有項目也盡量減低對大自然造成的負面影響。
香港獨特之處在於地方雖小,但卻含有豐富的生物多樣性;同時是國際商業及交易樞紐,經濟繁榮富足。很多保育工作尚待展開,我們有能力做到的,包括保護本地生物多樣性,重新思考我們的消耗模式,教育及勉勵市民一同保育。
Mai Po Nature Reserve 米埔自然保護區
"Located on the northwestern corner of Hong Kong, the Mai Po and Inner Deep Bay wetlands is recognized as 'Wetland of International Importance' under the prestigious Ramsar Convention in 1995. The 1,500-hectare area acts as a key way station and wintering site along the East Asian-Australasian Flyway where 50 million migratory waterbirds travel through each year.
Since 1983, WWF has been managing the 380-heactare Mai Po Nature Reserve – as large as within 9,500 basketball courts – within the Inner Deep Bay. Classified as a Biodiversity Management Zone under the Mai Po and Inner Deep Bay Ramsar Site Management Plan, the Mai Po Nature Reserve offers benefits aplenty to wildlife and the local community through education, recreation and conservation."
Hoi Ha Wan Marine Park 海下灣海岸公園
"Hoi Ha Wan Marine Park is among the first batch of marine parks in Hong Kong. Home to more than 60 coral and 120 fish species, WWF's The Jockey Club HSBC WWF Hong Kong Hoi Ha Marine Life Centre offers students and the community opportunities to appreciate our valuable marine resources.
WWF's education activities and school exhibition panels provide interesting and interactive programs for students to enhance their understanding of issues related to marine environment and fisheries. All education programs at Hoi Ha Wan include a coral-observation trip aboard a glass-bottomed boat. Students and corporate members can also take part in clean-up efforts and other conservation activities."
Island House 元洲仔自然環境保護研究中心
"Built at the beginning of the 20th century and declared a heritage monument in 1983, Island House is home to 140 plant species, comprising a mixture of local and introduced species ranging from ferns to mature trees." The Island House, formerly known as "Yuen Chau Tsai Island" was a round island located on the Toro Harbor in Tai Po East, New Territories. When the Hong Kong Government decided to use Tai Po as the Headquarters for all New Territories administration, they leveled the island to erect offices as well as staff accommodations and built a causeway to connecting the mainland.  After WWII, the house became the official residence of 15 consecutive Distinct Commissioners; in 1986, WWF-HK was awarded the custodianship of the Island House, and charged with the responsibility for maintaining its cultural and national heritage. Now the house is a Conservation Studies Center.
All featured photos © Wong, Sorenson, Stryker
WWF-Hong Kong (WWF-Hong Kong. (2018). "Hoi Ha Wan." WWF-Hong Kong. Retrieved at https://www.wwf.org.hk/en/whatwedo /community_engagement_and_education/hoi_ha_wan/
WWF-Hong Kong (WWF-Hong Kong. (2018). "Island House." WWF-Hong Kong. Retrieved at https://www.wwf.org.hk/en/whatwedo/ community_engagement_and_education/island_house/
WWF-Hong Kong (WWF-Hong Kong. (2018). "What We Do." WWF-Hong Kong. Retrieved at https://www.wwf.org.hk/en/whatwedo/ water_wetlands/mai_po_nature_reserve/