Alex Wong
Education Manager, One Planet Youth, WWF-HK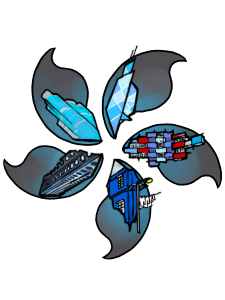 Alex Wong has worked for WWF since 2002, with a brief hiatus to obtain a Masters degree in Sociology before his return in 2015. He has also worked for Ocean Park in their education program. Now serving as the Education Manager for the One Planet Youth program, Alex works directly with students, educators, and schools to promote environmental education and outreach. Additionally, he works with members of the Conservation Team and researchers to develop and maintain engaging programs at WWF sites throughout Hong Kong.

"I think the most unique feature of WWF-HK is that all our environmental conservation and education programs are 'based on science.' Through scientific research, we realize the world, the nature, is facing a problematic time, yet these problems are resolvable.  Therefore, we hope to get objective data and then to inform the citizens that our nature is already at risk, and we should be alarmed…"
Alex Wong Transcription
…
however, it's not just our words with no scientific basis. At the same time the damages are caused by human, and thus human absolutely have the power to make a change. This relatively objective description and presentation of the relationship between human and the nature is convincing for most folks, I believe, and fortunately, it's also why we receive generous support and donation. We are still currently the largest environmental organization in Hong Kong; this is also something I am very proud of
. Yes, our WWF-HK luckily has many educational centers, such as Mai Po Nature Reserve is a wetland park; Hoi Ha Bay Marine Park has a glass-bottom boat to take people out to see the coral reeves. All these resources help us to bring citizen to contact with the nature. We have always said, to see it, to experience it, and to know about it, is the first step of environmental protection. If one doesn't know about the nature, or know Hong Kong actually has such natural environment, how can they know how to protect it and nurture it! (Translated by Wong, Sorenson, Stryker)
"I think science can tell us what the real situations are, what is happening right now, and because we have scientifically proven data, citizens tend to trust what we said. Scientists are trying to find the answers, the facts, and our educational department attempts to inform the public, to all walks of life, that every single thing we do…"
Alex Wong Transcription
…
for example, using a piece of paper, eating a dish of seafood, or using plastic products, all these actions have significant impacts on the environment. We are gradually educating our citizens and students about how to 'change the way we live,' so as to help the environment. I believe these 'solution base, science base' methods are very effective to 'engage' the public. My 'philosophy' is environmental education and conservation cannot be achieved by one person. Through our educational effort, we can better inform our next generation; it's like planting a seed in their hearts, so when they grow up, no matter what career path they might take, we hope this environmental consciousness is still alive in their minds. Therefore, this is a 'collective effort.' It has to be done by everyone altogether, and continuously, in order to be successful. This is the reason why WWF-HK is so focused on education. And I believe in this cause, and over the years I have been devoted myself to the work of environmental education. (Translated by Wong, Sorenson, Stryker)
"Because environmental education and conservation is indeed very difficult everywhere; it's even more difficult for Hong Kong and Singapore. Why? As many people say Hong Kong is a 'concrete jungle,' and that it's just buildings everywhere and the same for Singapore; it's so dense. Hence, people forget that 40% of the land is actually national parks. As such an 'urbanized' place…"
Alex Wong Transcription
…
such a globalized city, we often think about the economy first. Right? The living space is very small, and there is no personal space, that people don't have time, or even the mood, to slow down and look at or think about nature. It's relatively difficult for us, in places like Hong Kong and Singapore, to do environmental education and conservation. Compared to Canada or Australia, that most households have their own 'backyards,' or next to woods, they have plenty of opportunities to experience nature. In England that many citizen science projects take place in people's 'backyard.' They are used to it and can easily do it
. Our 'challenge' is to change the 'mindset' of the next generation; don't just too focus on making money, slowing one's life down and to experience nature.  To know that everything we eat actually comes from nature. A lot of times when I ask the kids, where do eggs come from or where do butter come from, they will answer me 'supermarket.'  But butter is related to cows. However, kids do not necessarily make that linkage in Hong Kong. These are all parts of the challenge we face. This is something specific about an 'urbanized' place. (Translated by Wong, Sorenson, Stryker)
"The major 'challenge' I have is youth today always see and understand the world through their cell phones. Without leaving their homes, they can almost get every information available. So when we really want them to 'connect with nature,' we must offer very extraordinary experience to entice them; otherwise they are not interested, and gradually distance themselves from nature and others…"
Alex Wong Transcription
…
which is the biggest difficulty. 
One interesting thing is that we have begun to work on 'urban biodiversity.' Indeed, even in such a highly urbanized place like Hong Kong, as simple as a park in the city, a river in the city, or even just some trees in the city, we can find a lot of living organisms. In the near future, I hope to encourage people to pay more attention to the ecological aspect of the city, take some time to look up to the sky, the trees around us, and don't just look down and play with one's cell phone, and thus missing the chance to see a flower, a grass, or a bird. Hopefully, people will find and like what they see surrounding them first, and when they like what they have experienced, then they can try to go to visit nature to learn more
. (Translated by Wong, Sorenson, Stryker)