Alice Tsui
Staff, WWF-HK Panda Shop Central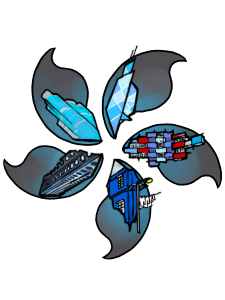 Alice Tsui is a graduate student at Chinese University of Hong Kong where she studies Chinese language education. Although she does not study environmental science, her passion for environmental sustainability shows in her work as an educator and part-timer at the WWF-HK Panda Shop. Alice has a range of experience with conservation organizations in Hong Kong, which informs both her personal philosophy on environmentalism and the ways in which she engages students in the classroom setting.

"As you know that, actually I just mentioned, I am working in the education part and that's why I think I am important in promotion of the ideas of environmental education. Because actually, you go to ask students, children on the streets, they all agree that protecting the environment is really important…"
Alice Tsui Transcription
…
however, when [you] ask them more details about environmental conservation — especially in Hong Kong — what actually [are] the organizations working, they don't know many. So I think I am one of the part to promote some real information to them, actually what, like, WWF is working or what other environmental organizations is working. So, they'll know, actually, there are many local programs to protect our environment in Hong Kong, not only the wetland. Actually, there are many places in forest in the New Territories. However, not many people recognize about this. And so there are many species that need to be protected [that] they don't know, or there are many problems going on [that] they don't know.
"Most of the people in Hong Kong — this is related to economic — they won't choose environment or biology thing as their main career. And Hong Kong don't have really professional and latest informations, teachers, or researchers in this field. So when they want further development in the career, those people who take these as their major will go to foreign countries, actually, they won't stay in Hong Kong…"
Alice Tsui Transcription
…
But experienced professionals in these fields will come from foreign countries, actually, so it's ridiculous. But it's a real case
. A step more forward, then, should be the mainstream education to [educate] our new generation. Which is delivering the knowledge about the environmental problems and who is working on it and how you can participate and encouraging them to participate.
"You may think that 'why housing problem in Hong Kong is such, having such a big conflict to environmental conservation. Mostly, it is about the housing issues and the conflicts between the environmental conservation because it is really obvious that we don't have enough land for our population…"
Alice Tsui Transcription
…
I am fighting inside myself, too. Because, as a youngster, actually, not [being] able to afford a house for myself is a really effect in my future; however, it's kind of selfish to take those lands from our local species actually living with us to only just fill my demand
. I think this cannot be solved in the short-term, maybe 10 years later, like, it's still going on. So we may try to fight for some places that really need to save, however I think in long-term actually some lands may still be sacrificed for housing. And this is the main economic conflicts in Hong Kong with… to the environmental conservation.
"And years ago, one of the proposals is turning the, one of the beach with contains a lot of ocean species — local species — into new houses. And that really brings great conflict and discussion in society because actually we don't have many places for local species now, and now they actually want those lands for new houses…"
Alice Tsui Transcription
…
We know that actually we have a great need for that. However, because of this, we sacrifice all of the environment in Hong Kong. So that time some people actually go there to just taking photos and taking recordings in order to save some information about those species because they think that actually they have no opportunity to doing study on them anymore. If the proposal has passed. However because the stress from the public the proposal has stopped. But later they're thinking of other lands to solve the housing problem
.