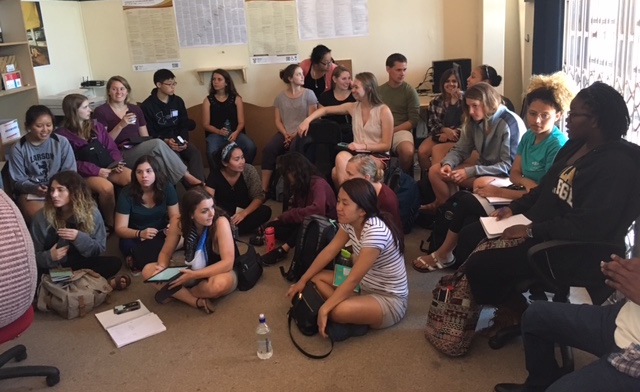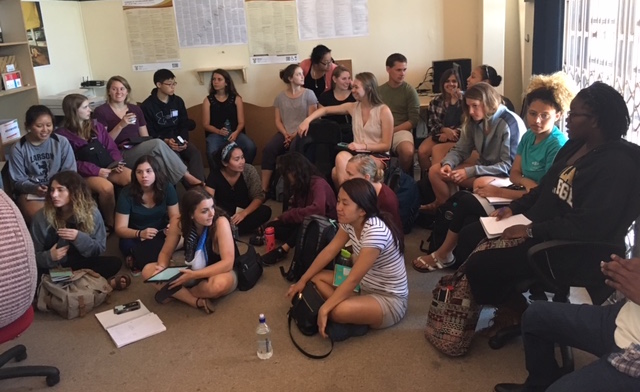 This past week, we spent several days in Grahamstown and the surrounding area. We had the opportunity to stay in student residences at Rhodes University, engage with intellectual leaders, and visit historical sites. Our experiences in Grahamstown demonstrated that this city—and the Eastern Cape holistically—has a rich past of activism and resistance. An essential aspect of this history is the preservation of dignity in the face of oppression. Three experiences we felt most demonstrative of this theme include our visit to the Addo Elephant Park, an HIV/AIDS Support Center, and the Steve Biko Foundation.
According to its website, Addo Elephant Park was established in 1931 to save 11 elephants on the brink of extinction, and is now home to more than 350 of them—indeed, we were lucky enough to see a whole parade! We also spotted African buffalo, a black rhino, antelopes, tortoises, and zebras. In terms of wildlife conservation efforts, Addo's story is a victory not only for increasing species numbers, but also for providing an immense natural habitat in which these animals can roam. It was a powerful, breathtaking experience to witness such a vast variety of endangered species free from the degrading confines of zoos, and living where they belong: in a space of freedom and dignity.
On Saturday, we met with several staff members of the local Masimanyane HIV/AIDS Support Center. There, we learned just how critical dignity is to empowerment. This center has five clinics in the Eastern Cape that refer HIV-positive individuals to doctors and specialists, provides education about relevant resources, and counseling. As a non-profit organization, Masimanyane also focuses on gender based violence by employing lay counselors, providing domestic abuse and sexual assault services, and offering a shelter for abused women. Through these and other means of social support, these communities are empowered.
We also visited the Steve Biko Foundation. Bantu Steven Biko was one of the prominent leaders in the black community who introduced and led the Black Consciousness Movement. Biko defined the mission of Black Consciousness as an endeavor "to show the black people the value of their own standards and outlook. It urges black people to judge themselves accordingly to these standards and not to be fooled by white society who have white-washed themselves and made white standards the yardstick by which even black people judge each other." Biko was killed in the pursuit of black equality in South Africa, and his legacy remains influential. Biko demonstrated that the respect for and affirmation of identity is essential to personhood, and therefore human dignity.
An important aspect of this course is our effort to begin to understand the steps South Africa is taking to overcome its legacy of oppression. Various axes of oppression in South Africa, including but not limited to animal exploitation, inadequate access to healthcare, and racial inequality, have worked together to remove the agency of both people and animals. These past few days have demonstrated that in order to overcome, dignity must be won for all of South Africa's inhabitants.