Koshkonong Norwegian Settlement, Cottage Grove and Stoughton, Wisconsin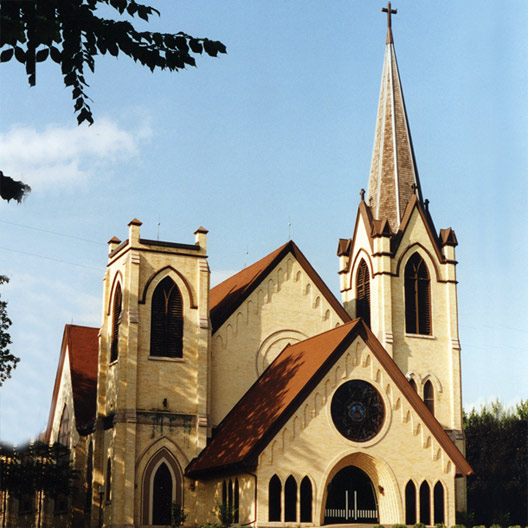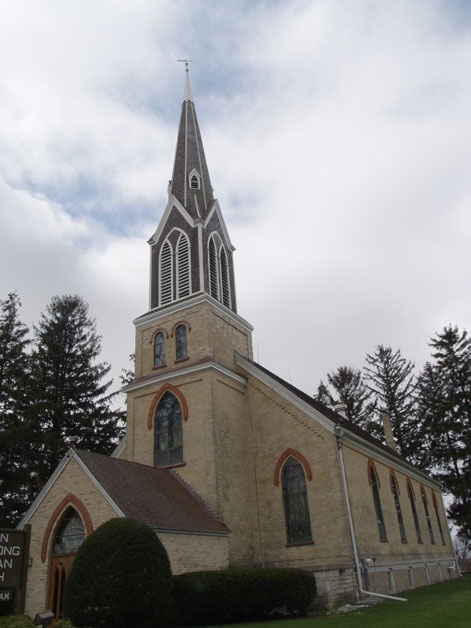 Top Right: West Koshkonong Lutheran Church affiliated with the Evangelical Lutheran Church in America.
Bottom Right: East Koshkonong Lutheran Church affiliated with the Evangelical Lutheran Church in America.
Above: Western Koshkonong Lutheran Church affiliated with the Evangelical Lutheran Synod.
In the fall of 1836, Norwegian immigrants who were living in La Salle County, Illinois were searching for homesteads. They found a patch of land in Wisconsin in the Koshkonong Prairie, and the immigrants moved there and began building homes. After they had settled the area, more Norwegians heard about the place and banded together to create a settlement. This became the 6th Norwegian settlement in the United States, and the 3rd in Wisconsin.
The settlement became attractive to Norwegians, as they were inclined to settle around those of similar heritage.  Because church was central to communities in Norway, Norwegian Lutheranism was planted in these new populations. There were so many immigrants coming in that the single congregation split into two, one east and one west, because of geographical necessity.  Reverend Dietrichson visited both congregations in 1844 and was asked by the settlers to become their pastor. He declined at first but found himself back in the area accepting the role of pastor for both churches in 1845.
A few years later, southern Wisconsin was booming with Norwegian immigrants, and pastors to go with it. In 1853, congregations and pastors came together and formed the Norwegian Evangelical Lutheran Church in America, with Dietrichson's successor, Adolf Preus, as the synod's first President.  The same year the Norwegian Synod was created, another church, St. Paul's Liberty Lutheran, began worshiping together because settlers farther north found distance to the existing churches was becoming an issue.  In 1860, the churches called Jacob Ottesen to be their pastor.
During Ottesen's time as pastor, there were many divisions in the churches he attended to. Ottesen's health problems contributed to this as a few of his churches called pastors to help lighten his workload. Then, in the 1880's, a major rift occurred that impacted East and West. A decision was made regarding the doctrine of predestination.  This decision divided the congregation, some of whom supported the Anti-Missourians, and others who supported their pastor and the teachings of the Missouri Synod. The churches continued to struggle with internal conflict, including a lawsuit over who controlled the church that went to the State Supreme Court. Because Ottesen would not sign the Anti-Missourian confession, he and his supporters built a new church, Western Koshkonong Lutheran church, in 1891.
Today, four churches thrive from the original Koshkonong settlement: St. Paul's Liberty Lutheran in Deerfield, East Koshkonong Lutheran in Cambridge, West Koshkonong Lutheran in Stoughton, and Western Koshkonong Lutheran in Cottage Grove. The article will focus on East, West, and Western, as St. Paul's Liberty Lutheran was built in the nearby Liberty Prairie to accommodate for the Norwegian Immigrants who were too far away for either East or West.
East Koshkonong Lutheran Church was one of the first churches built in the Koshkonong area and is affiliated with the South-Central Synod of Wisconsin branch of the Evangelical Lutheran Church in America. East Koshkonong agrees with the ELCA's focus on community and helping the neighbor and strives for multi-generational congregation that works for the betterment of the Koshkonong and beyond.
West Koshkonong Lutheran Church, like it's counterpart East Koshkonong, is a member of the ELCA. Their simple mission of "Learn, Follow, Welcome, Share" is supported by the ELCA's mission of hearing the Gospel and spreading Jesus' teachings to the rest of the world.
Western Koshkonong Lutheran, which split from the other congregations over issues of predestination, now belongs to the Evangelical Lutheran Synod, which has some similarities to Missouri Synod, supporting Ottensen's legacy, but has roots in the Norwegian Synod. Western Koshkonong supports the community through their education program for preschoolers, giving instruction in social development and faith for young children.
The Koshkonong Settlement is a prime example of Norwegian Lutheran immigration. For Norwegians, church was a main part of the community, supporting their religious, political, social, and moral needs. This importance was exemplified by the quick formation and construction of the local churches. The general movement of immigrant churches was very common in America, especially for Scandinavian immigrants, but Koshkonong remained special for it's strong sense of ethnic and religious heritage. The Koshkonong Norwegians didn't lose their heritage and held tight to their culture, unlike similar groups who settled in Wisconsin that assimilated and forgot the importance of their history. The churches are very open to other cultures as America still receives people from many countries and backgrounds, but they retain and celebrate their roots as Norwegian immigrants. This heritage was instrumental in the formation of the Norwegian Evangelical Lutheran Church in America and continues to influence Lutheran governing bodies today.
Bibliography:
Flom, George T. A History of Norwegian Immigration to the United States from the Earliest Beginning down to the Year 1848. Iowa City, 1909. 164-189. Print.
West Koshkonong's Web-page: http://westkoshkonong.com
East Koshkonong's Web-page: http://eastkoshkonong.org
Western Koshkonong's Web-page: http://westernkoshkonong.org
Grover Family Website: www.mnwebsteps.com/grover
Rebekah Thomas and Leif Nelson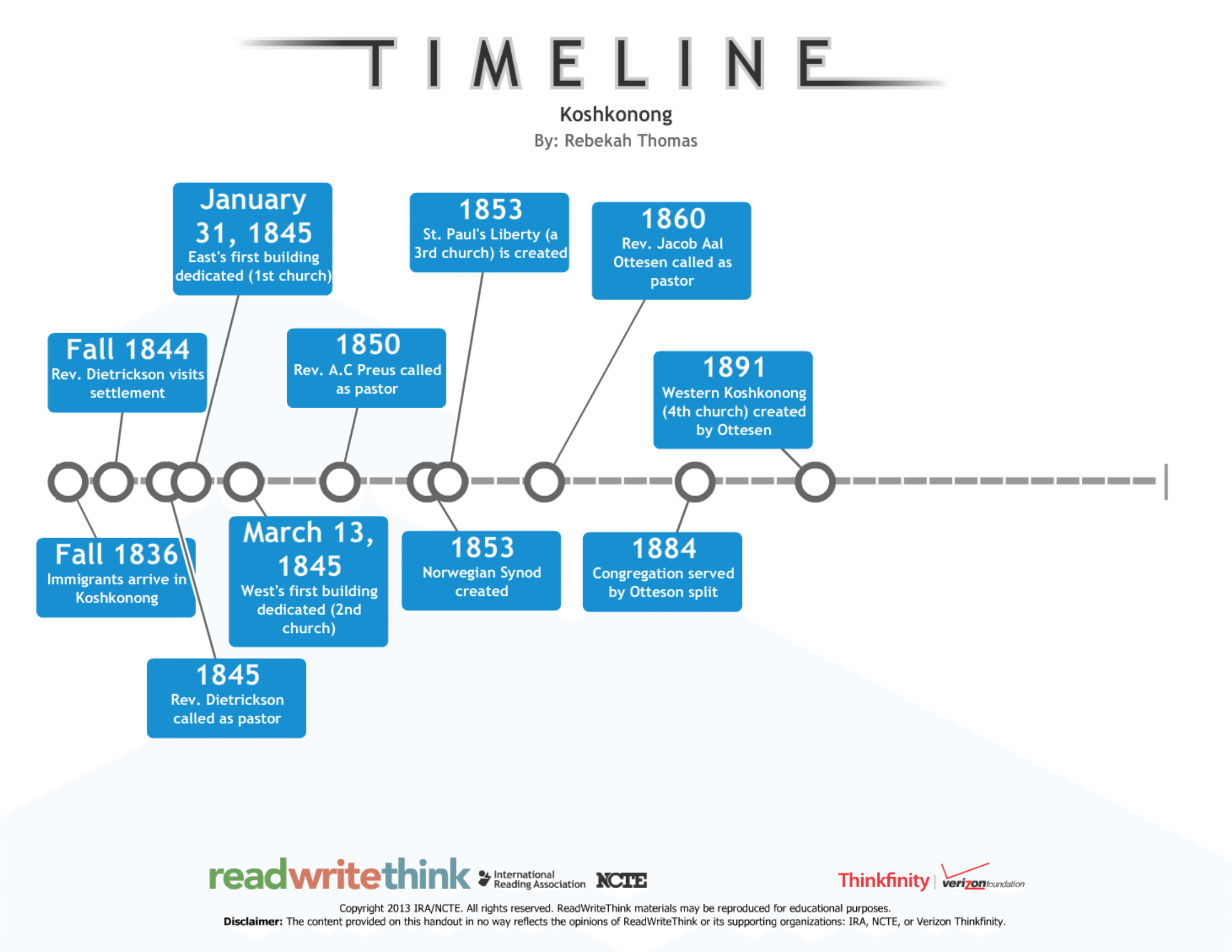 Minneapolis Journal article detailing Koshkonong's settlement.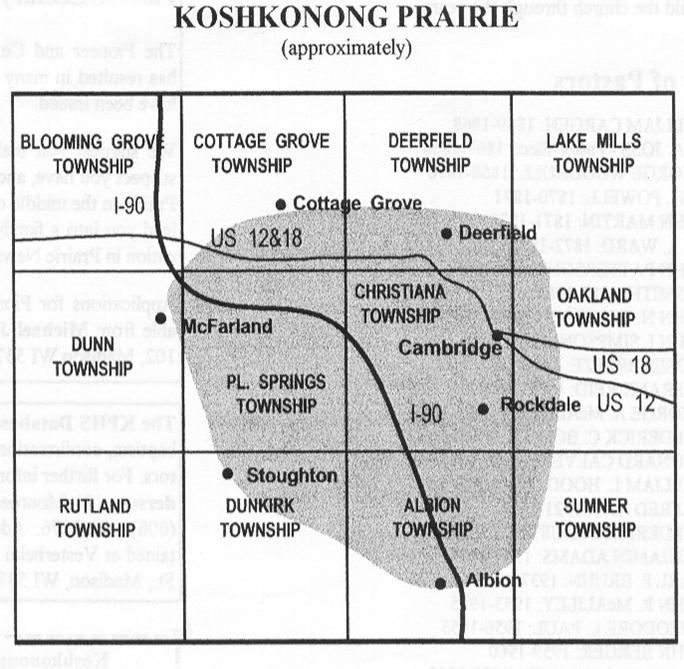 West and Western Koshkonong Lutheran Church
East Koshkonong Lutheran Church