Interested in organizing an event about Asia and the Environment? Funds are available. Contact the event coordinator,
Matt Rohn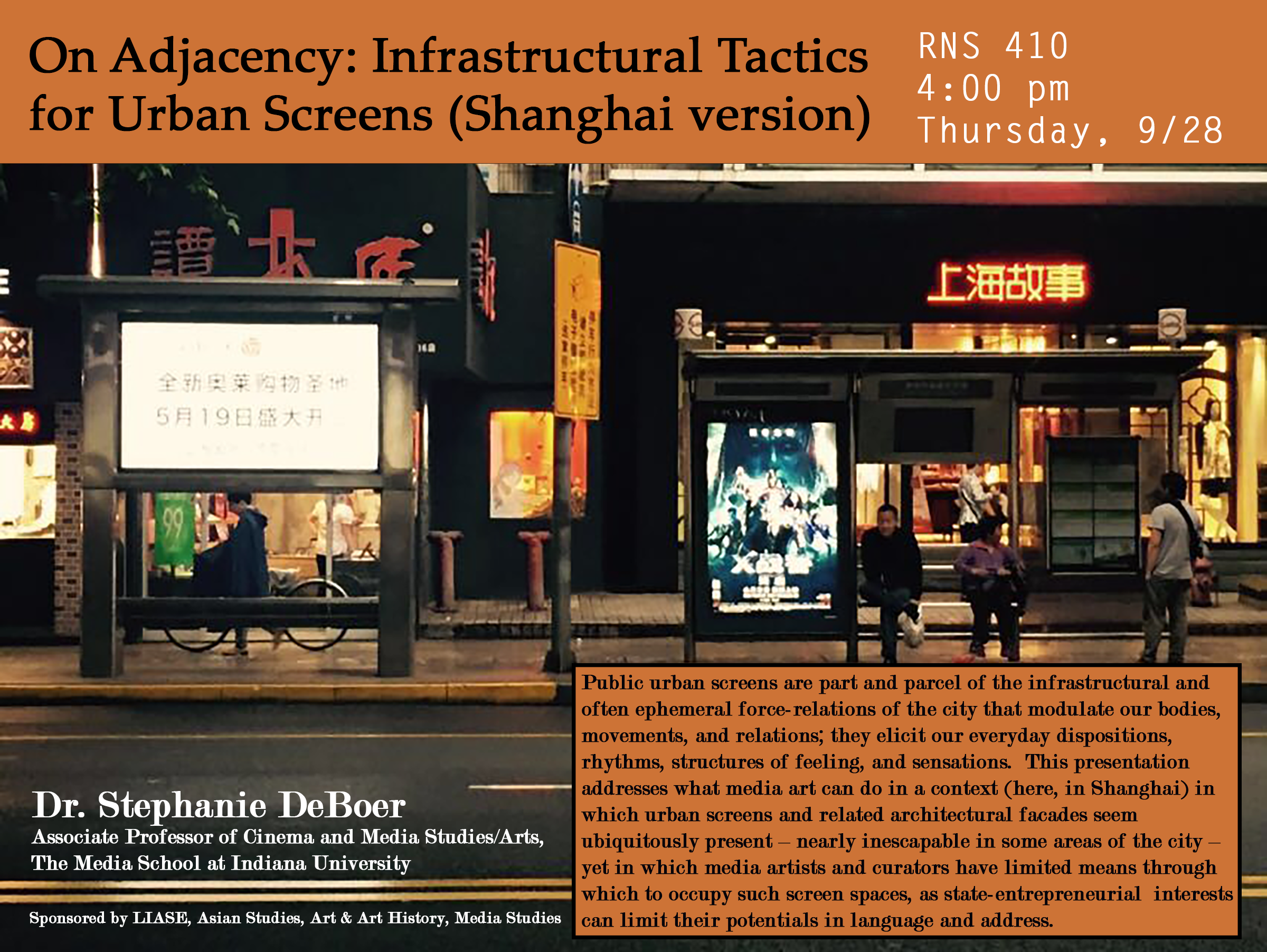 Urban Screens - Shanghai
Sept 28, 2017, 4-5pm, RNS 410

Public urban screens create opportunities and establishes short-lived forces that modulate our bodies, movements and relationships.  The use of media art elicits feelings and sensations from us while simultaneously influencing our disposition and daily rhythms.  Join us for a session led by Professor DeBoer as she explores how media artists and curators use these tools within the context of Shanghai, China.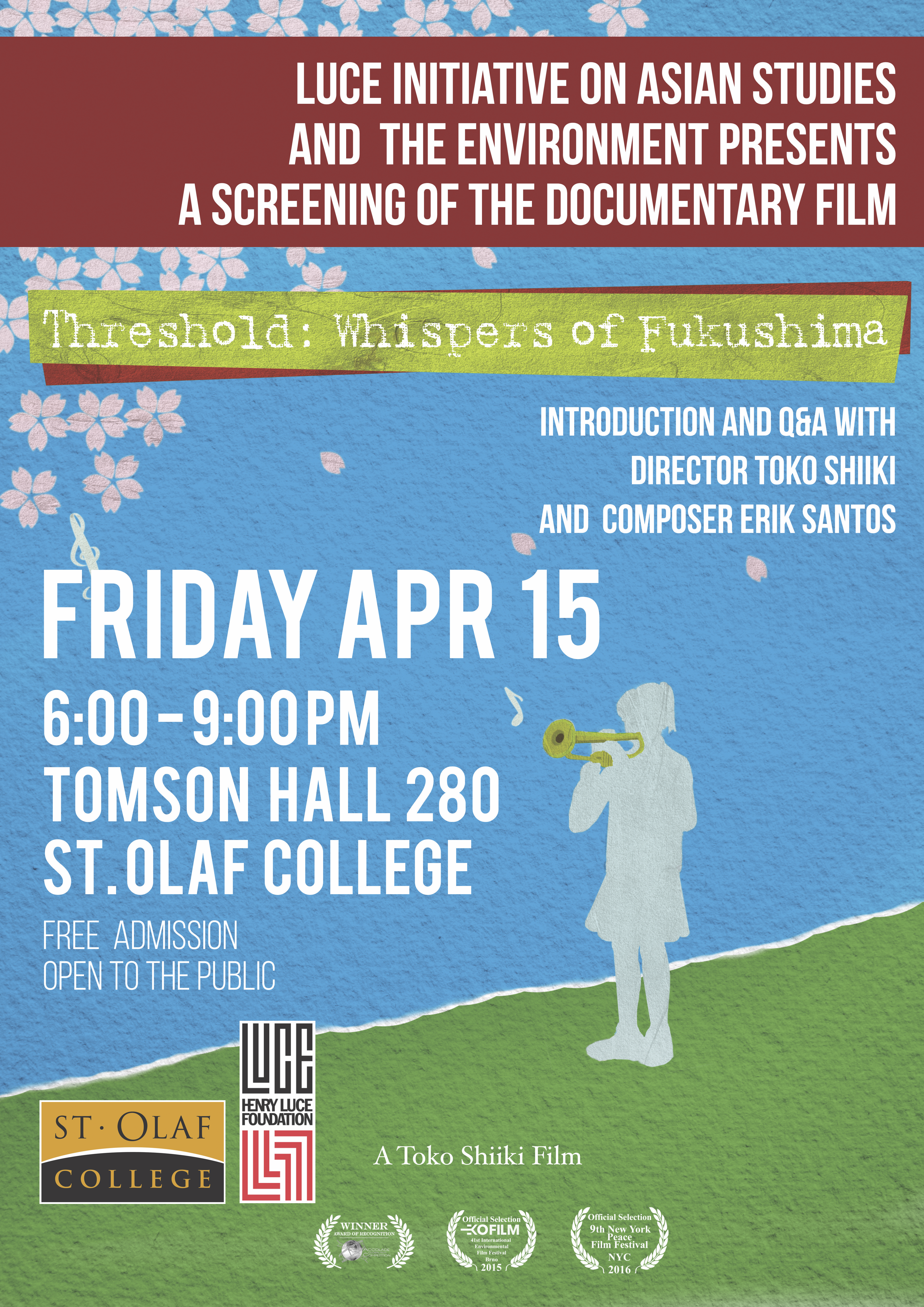 Whispers of Fukushima
April 15, 2016

,

6-9pm

, Thomson Hall 280
St. Olaf College held a special screening of Threshold: Whispers of Fukushima. an award-winning documentary film that examines the experience of several musicians from the Fukushima area after the earthquake, tsunami, and nuclear disasters of March 2011. The screening was followed by a reception with refreshments and a question and answer session with the director Toko Shiiki and composer Erik Santos.
Director Toko Shiiki focuses on the role of music as a positive and unifying force that supports a recovering community. She writes, "Finding and nurturing one's happiness to continue living a healthy life is a fundamental human concern. No matter where we live, we must face this. The people in Fukushima have such inspiring sounds and stories to share with the world. From these positive people, perhaps we might learn and remember something important and unexpected."
LIASE Grant Opportunities Session
On February 10, Asian Studies and Environmental Studies students gathered to hear reports of grant projects during the summer 2015 and to learn of opportunities for summer 2016.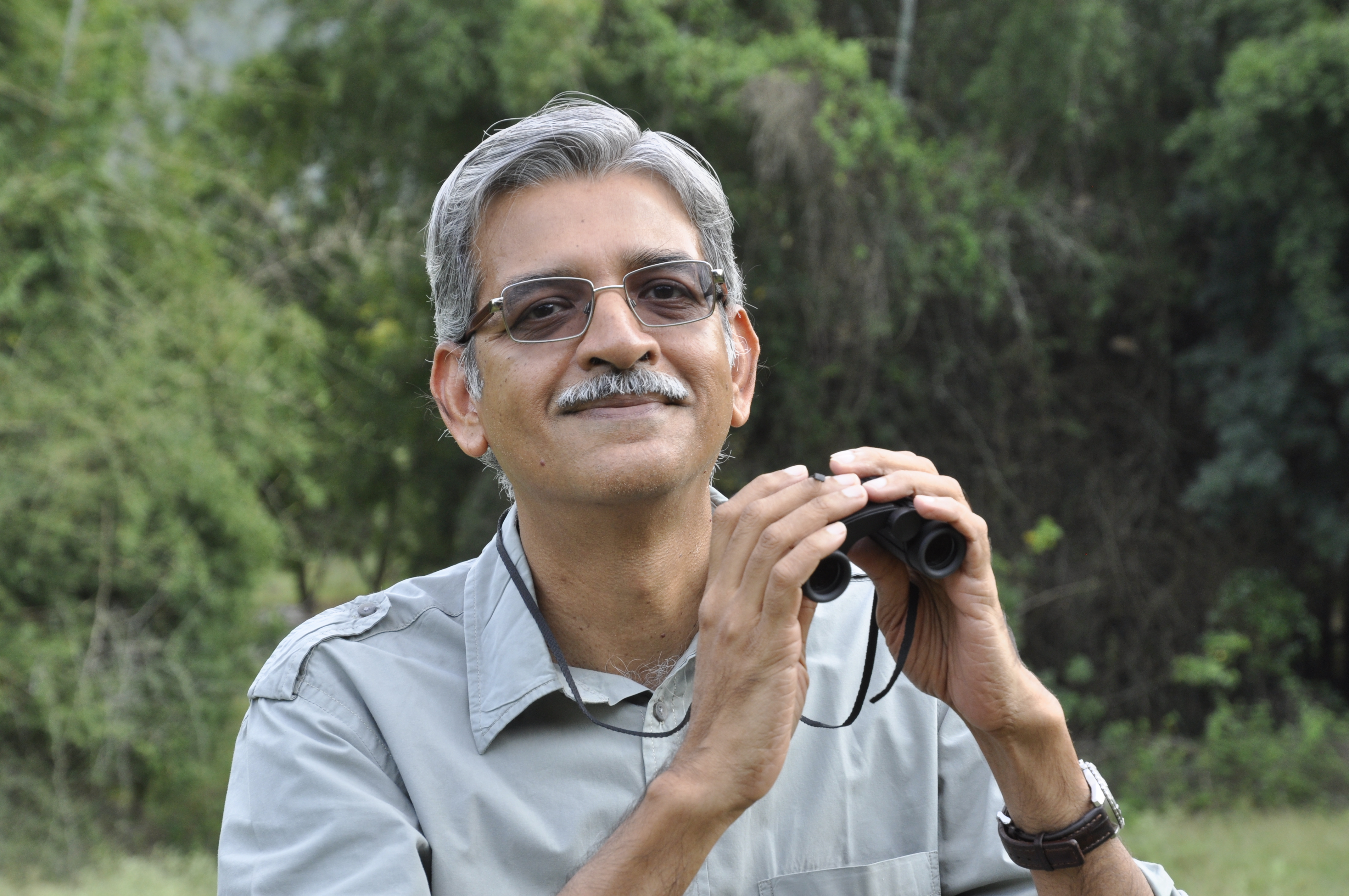 Talk on "The World of the Elephant" presented by Dr. Raman Sukumar
On April 24, 2015 Dr. Raman Sukumar of the Indian Institute of Science presented a talk on The World of the Elephant: Behavior, Ecology and Conservation.  He covered the major ecological features of Asian and African elephants in relation to their habitats, their complex social organization and behavior, their interactions with people, their exploitation for the ivory trade, and the conservation dilemmas of the 21st century.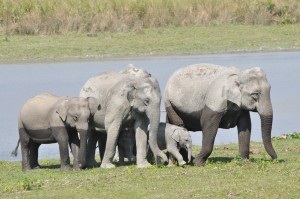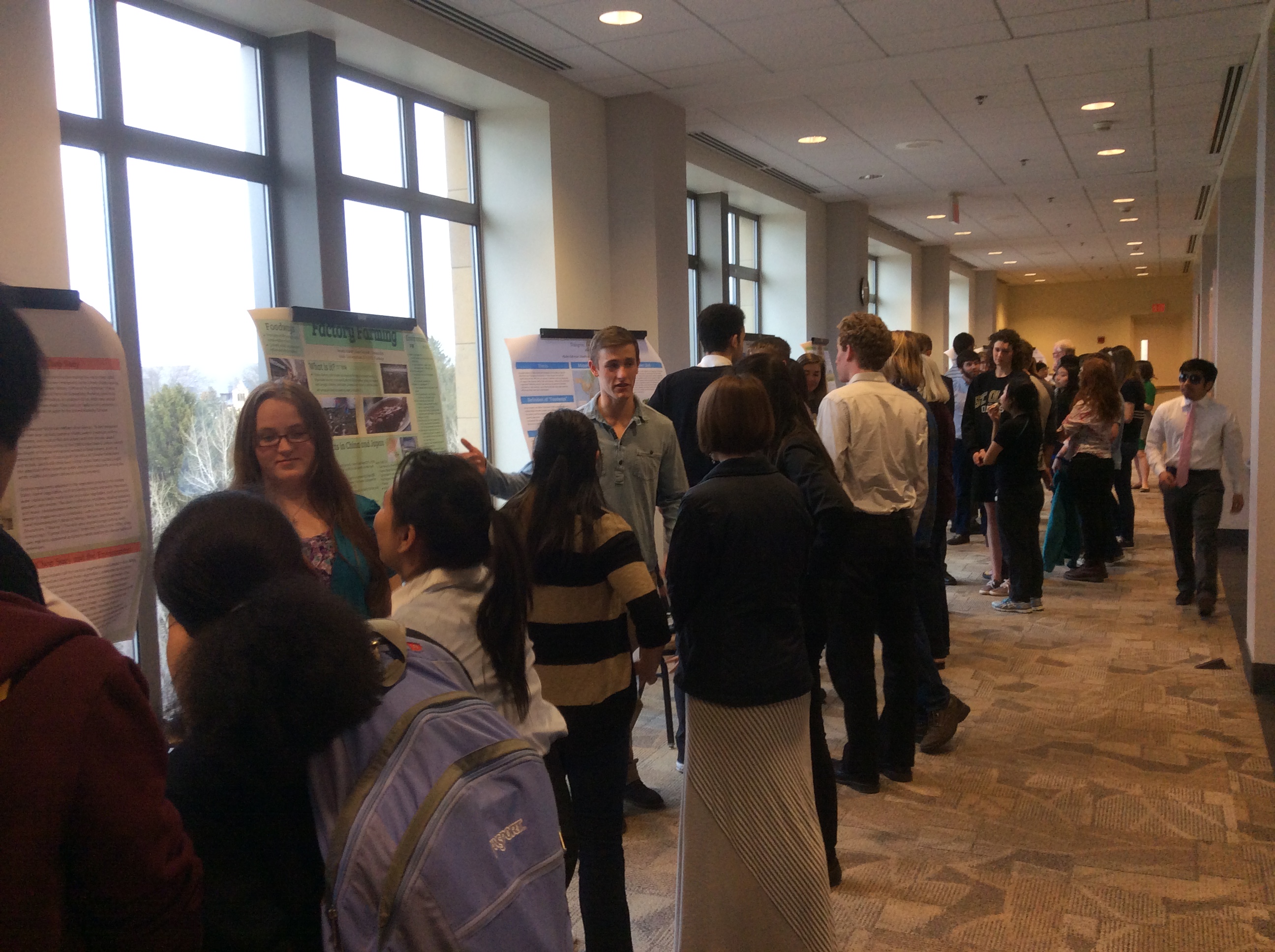 Asian Conversations – Foodways Talks and Poster Sessions
The students who studied food and environment in China, Japan and Northfield educated their colleagues with presentations and posters on topics like Factory Farming, Rice-Fish Culture, Food Packaging during dinner on 16 March 2015.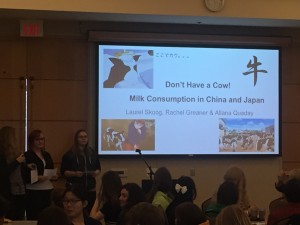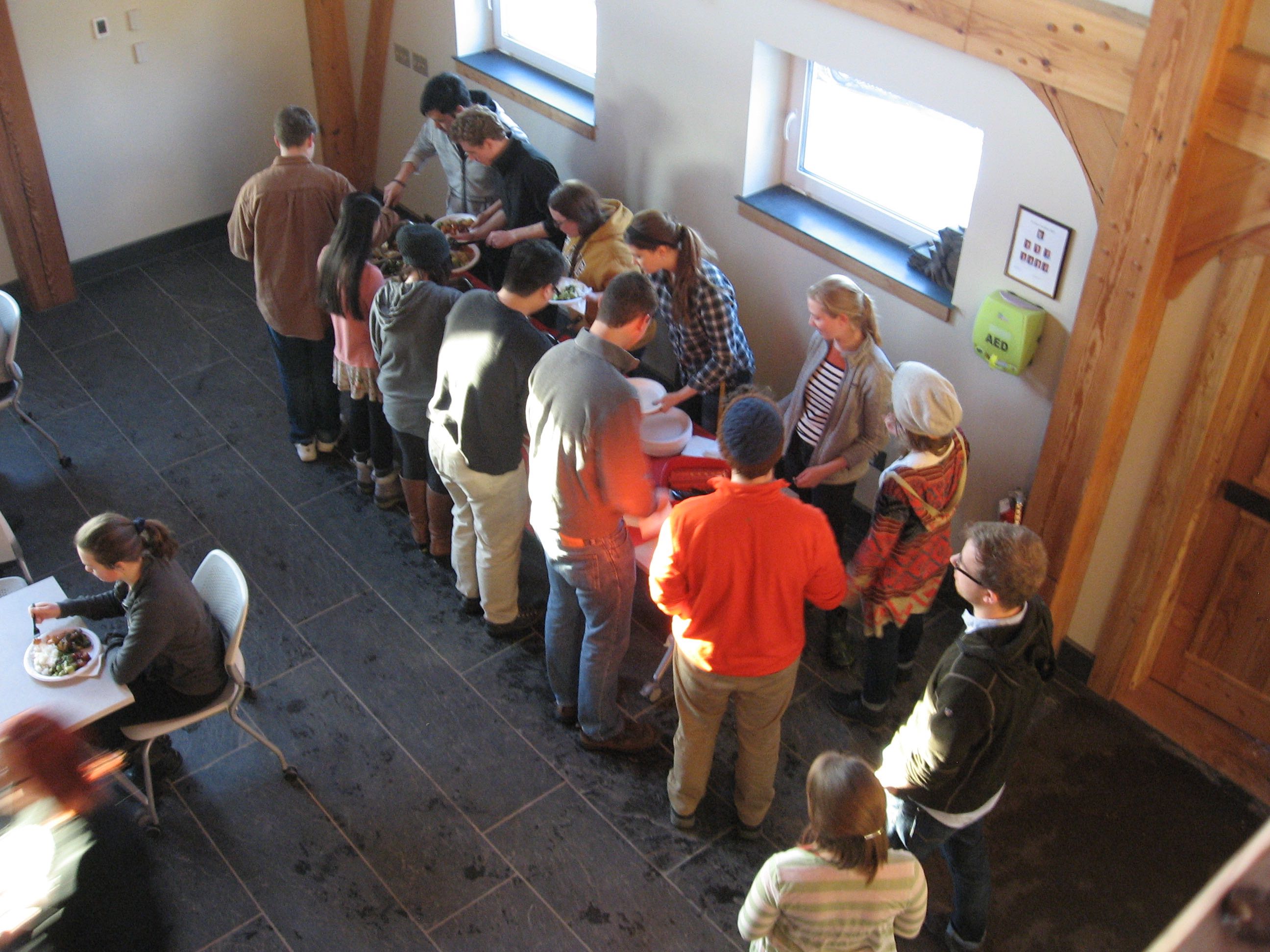 Asian Conversations and Environ­mental Conversations Dinner
Over the 2015 interim, the Asian Conversations and Environmental Conversations programs collaborated in a project about the sustainability and environmental impact of Chinese and Japanese food systems. Upon returning from Asia in February 2015, the Asian Conversations joined with Environmental Conversations students for an evening of Chinese cuisine and to meet their partners.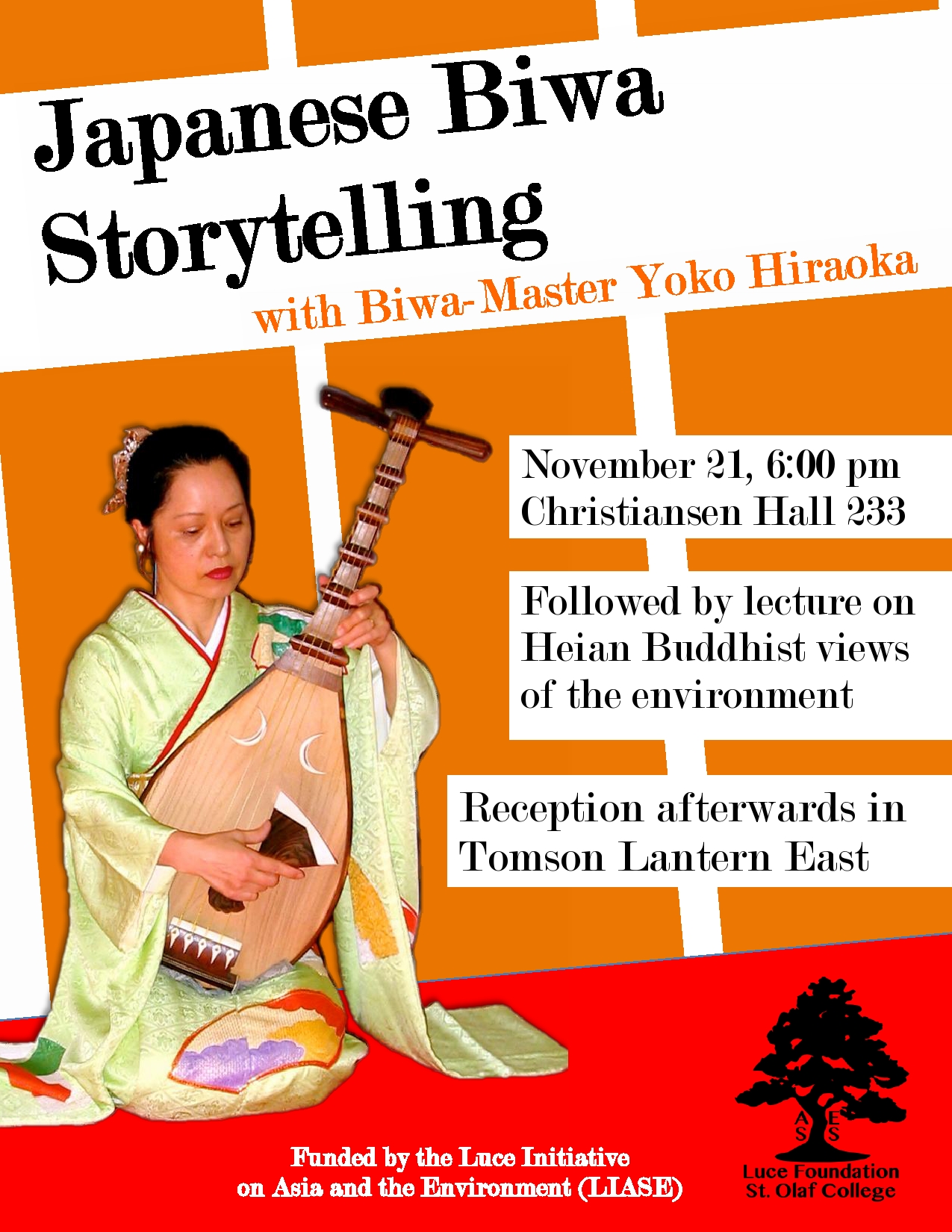 Japanese Biwa Storytelling
In November 2014, St. Olaf College invited
Hiraoka Yoko
, master of the
biwa
,
shamisen
,
koto
, and
biwa
storytelling, to perform "The Tale of Genji" in the Christiansen Hall of Music. As an introduction, she gave a lecture on the symbiosis of Buddhist culture and ecology as it was seen in the Japanese
biwa
storytelling tradition.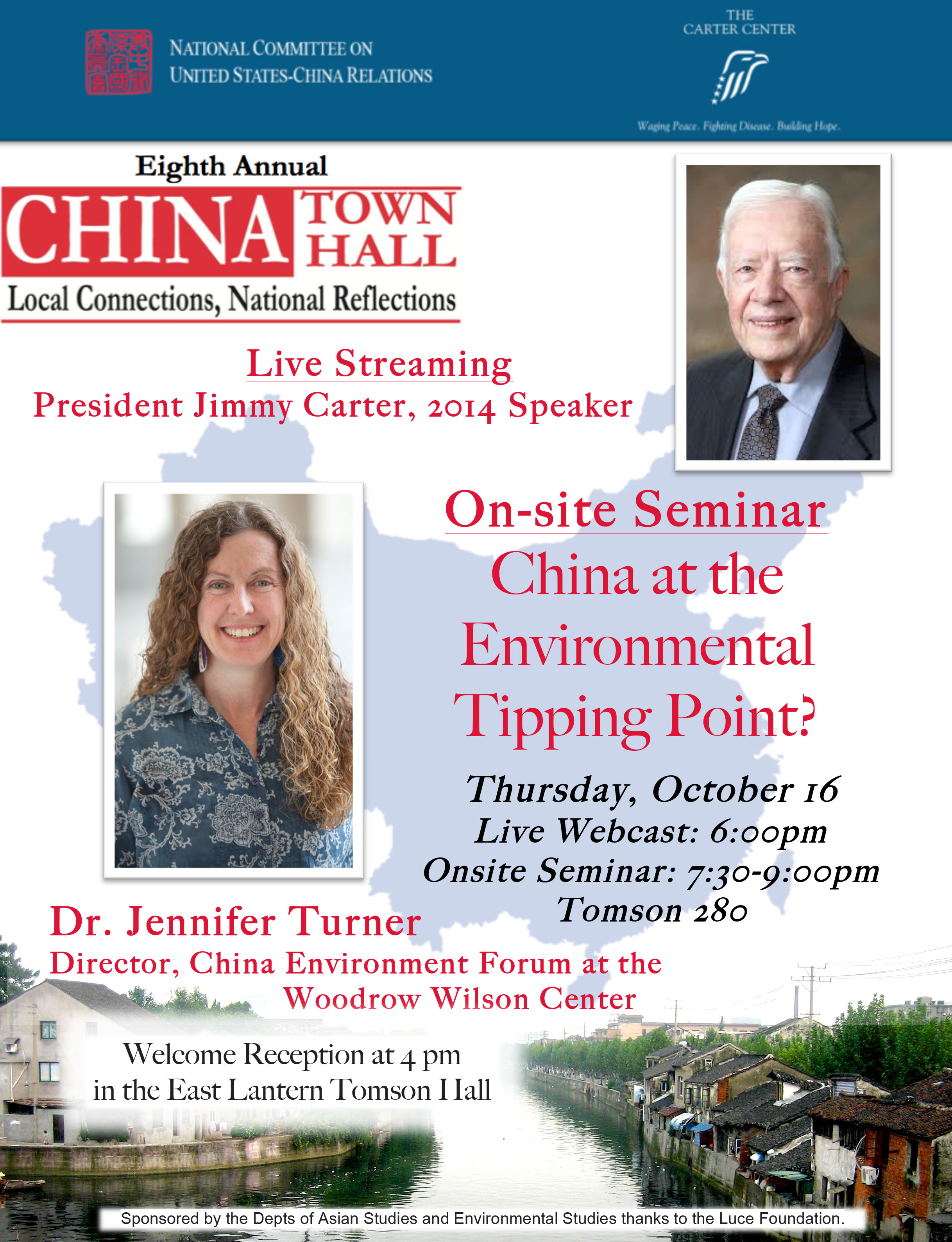 China at the Environmental Tipping Point
St. Olaf held a live streaming national webcast link to President Jimmy Carter on China/US Relations. This was followed by a seminar discussion titled "China at the Environmental Tipping Point" by Dr. Jennifer Turner, Director China Environment Forum – Woodrow Wilson Center.