**SOEMT COVID-19 Updates**
We will request that all patients report their temperature prior to an EMT entering the scene. 

For all calls that involve patients experiencing COVID-19-like symptoms, such as fever, shortness of breath, or a dry cough, please call ahead and  we will arrange transportation to Northfield Hospital via public safety or safe ride. 

All EMT's will respond to calls wearing proper

PPE including: gloves, gown, face shield, N-95 face mask, etc. 

Due to St. Olaf College's policy of no large group gatherings, we will not be providing SOEMT coverage of special events including sports, concerts, and other gatherings until further notice. 

We will ensure to keep you updated on the latest changes to SOEMT's procedures and policies.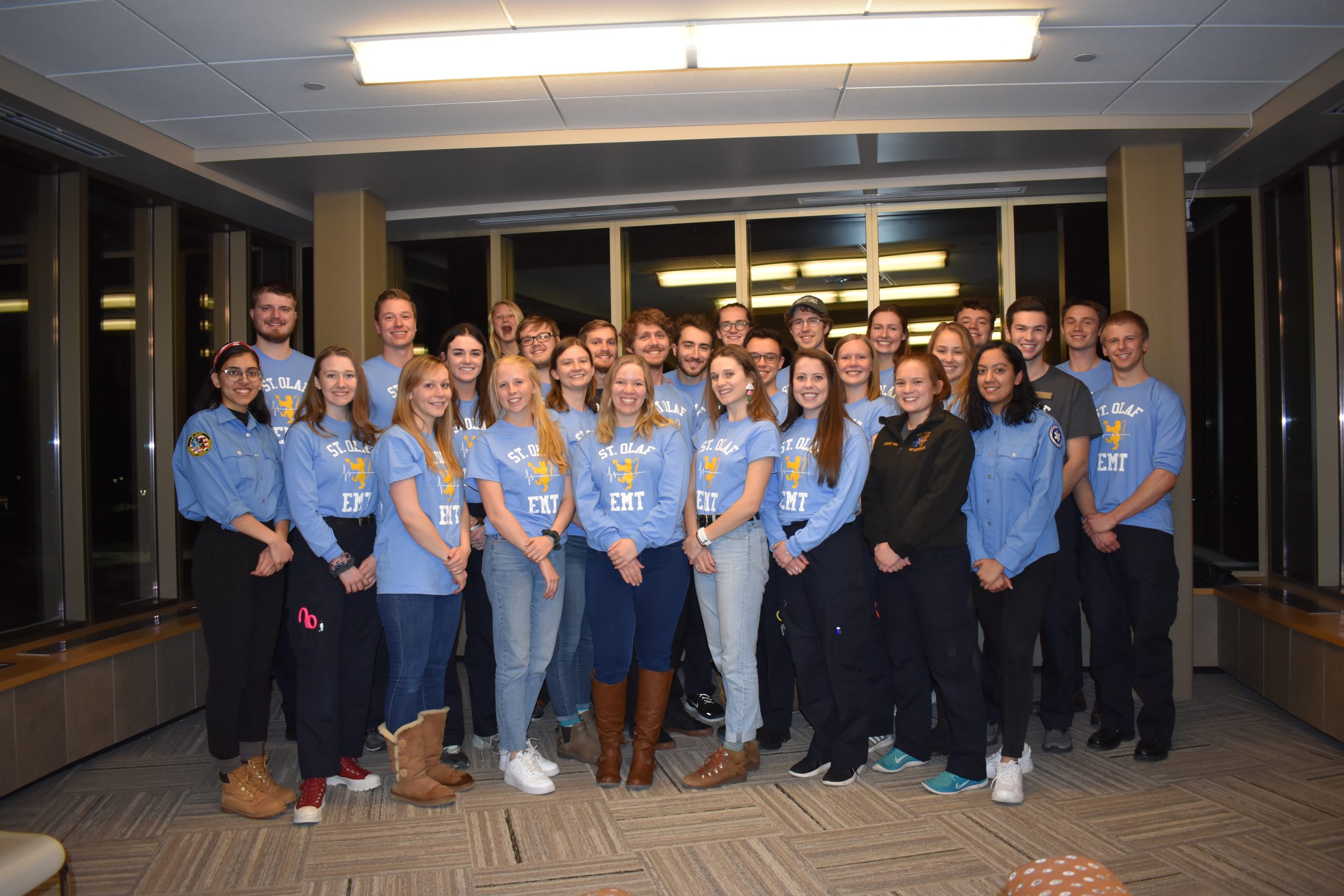 St. Olaf EMTs Fall 2019
Row 1 (left to right): Atefeh Alavi, Emily Carson, Asha Knish, Haley Challgren, Sara Spanjers, Meg Rossman, Anna Nelson, Corinna Brown Ton, Shreya Raghaven
Row 2: Josh Nierengarten, Ben Quiram, Anna Trenary, Melanie Nevins, Thomas Clark, Jack Thull, Thomas Cuesta, Kaitlyn Chalfant, Lizzy Buck, Amy Lao
Row 3: Maritza Weidel, David Domnick, Stein Acker, Thomas Pfingsten, Evan Green, Katelyn Lannom, , Carl Olson, Alex Oberg, Olaf Morkeberg, David Bauer
Our Mission
The St. Olaf Emergency Medical Technicians (SOEMTs) mission is to provide free and confidential volunteer first response medical service to the St. Olaf community.  The SOEMTs strive to assure that any member of the St. Olaf community in need of medical care or consultation receives attention.  The SOEMTs provide basic emergency response medical care until advanced care can be provided by a hospital or ambulance service, if needed.  The St. Olaf EMTs work to create a safe and aware environment for the St. Olaf community. The St. Olaf EMTs also try to increase awareness and recognition of medical emergencies by educating the public.  The SOEMTs have trained Red Cross instructors that provide CPR, AED, and First Aid training to the campus population.  The organization also works with outside sources to provide professional medical training for those interested in becoming part of EMS.