About the Antiochia ad Cragum Site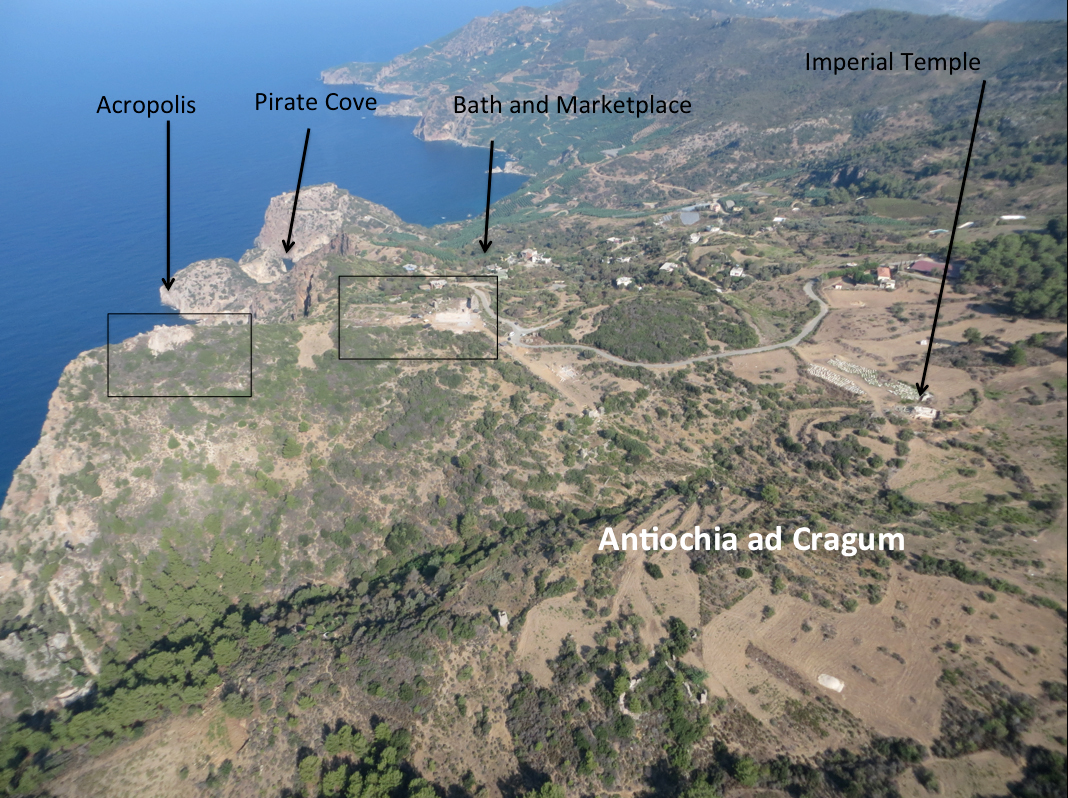 Beginning in 1997, the Rough Cilicia Archaeological Survey Project (RCASP) first investigated the site at Antiochia ad Cragum and provided preliminary mapping of all architecture. In 2005, the architectural team of RCASP, under the leadership of Michael Hoff (University of Nebraska, Lincoln) and Rhys Townsend (Clark University) returned to continue the architectural mapping.  At that time they began mapping the 25-hectare remains of the city center, which lay several hundred meters inland from the harbor. The most significant structure found was an imperial temple, 175 m. north of the main gate on the upper reaches of the site, midway up a gentle slope towards a ridgeline that runs roughly parallel to the coastline. Its situation upon a level terrace, approximately 25 m. above the other visible remains of the city, made the temple one of the highest placed structures at the site.  The other surviving identified structures included a colonnaded street with strong gates, serving as the principal entry into the city; an agora with surrounding colonnaded peristyle and small structure within its confines; two bath buildings; a palaestra; churches; and tombs. The majority of the visible remains of Antiochia rest upon a gently sloping shelf that overlooks the sea north of the promontory and terminates in a steep descent towards the sea, a 300-meter drop from the level of the city's main gate.
In 2007, the architectural team returned, this time as an independently constituted research project—the Antiochia ad Cragum Archaeological Research Project (ACARP).  Their focus was the Northeast Temple.  ACARP continued work at the temple in 2008, 2009, 2011 and 2012.  In 2011 and 2012, with the addition of teams from Attaturk and Istanbul Universities led by Birol Can, ACARP investigated the colonnaded street, bath complex and agora.  In 2013 St. Olaf College joined ACARP to continue work on the bath and agora complexes.  At that time Reflectance Transformation Imaging (RTI) was used to capture obscure surface details from the 300 coins and 10 inscriptions found among the architectural remains. In 2014, while the Turkish and Nebraska teams focused on the Bath, Imperial Temple, Colonnaded Street and Agora, the St. Olaf group broke ground on the Acropolis, uncovering a Late Antique village consisting of several houses, workshops and a central church.  Notable among the finds were several graves and a monumental bas-relief cross.