On only our second afternoon in DC, in the midst of a "snowstorm" that shut down DC*, we had the honor and pleasure of meeting with Minnesota's own Senator Tina Smith at her office in the Hart Senate Building.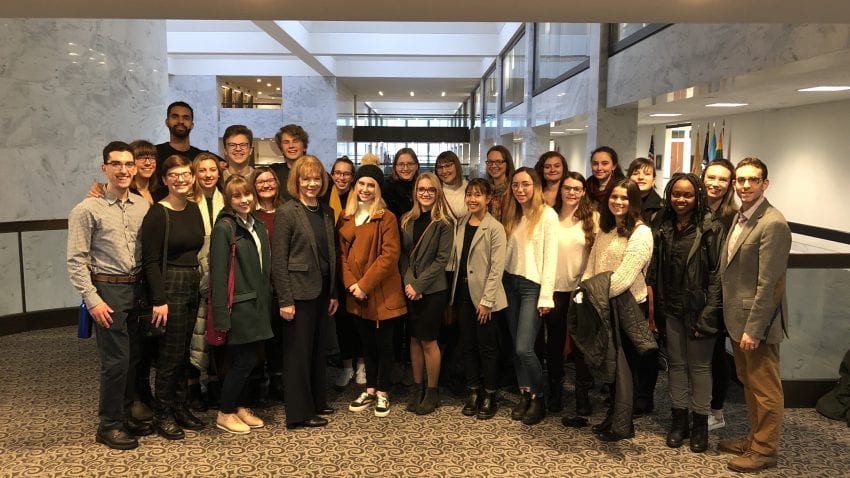 We asked her to talk about her understanding of the relationship between art and democracy, and she made an argument I often make in my classes: art, and in particular music, is part of what makes us human, creates our culture, and gives us important ways to express ourselves. She also pointed to the research that suggests that artistic practice supports learning in other fields. A student subsequently asked about how to take policies from idea to action, and Senator Smith responded that it requires working across party lines as well as a belief that we're all working toward the common good. She decried the bickering and name-calling that characterizes politics in our current historical moment, and she gave an example of working across party lines to get important work done.
When Senator Smith had finished answering our questions, her staffer Andrew Bremen stayed back to ask us some questions about our experiences of stated versus hidden costs for students in higher education. We were proud to be able to give something back to our elected officials, especially one who had taken the time to engage so thoughtfully with us.
Day two was pretty amazing – can't wait to see what the rest of the week brings!
* The "snowstorm" dropped around a half an inch within DC and up to 4 inches in the northwest suburbs. We Minnesotans were not impressed.