Blue Key History
History of the National Organization
The founder of Blue Key was Major Bert C. Riley, Dean of the General Extension Division at the University of Florida. In the fall of 1924 he built the foundation for an honor fraternity dedicated to service, beginning with twenty-five student leaders, who, either by election or by attainment, held places of prominence and confidence in the student body.
A national organization was established in 1925. Until the change of name to Blue Key Honor Society on February 7, 2003, Blue Key was known as Blue Key International Honor Fraternity and, before that, as Blue Key National Honor Fraternity.
Blue Key evolved from Major Riley's faith that American college and university student leaders are God-fearing, law-abiding young citizens who support and defend the Constitution of the United States of America and abide by the principles of good citizenship. He believed that they deserve to be treated as adults and that they are capable of accepting responsibility and working together with faculty and fellow students to enhance the welfare of the community.
History of the Chapter
The St. Olaf Blue Key Chapter was established on May 13, 1932. Thomas M. Torgerson '32 was the student who conceived the idea of bringing Blue Key to St. Olaf and who did the preliminary work necessary to have a chapter approved. He was chosen by his fellow chapter members to be its first president.
Criteria for Election
Blue Key Honor Society recognizes deserving juniors and seniors who have excelled in three areas–scholarship, leadership, and service–on college and university campuses throughout North America. Membership is offered only to students with a distinguished and balanced record in all three areas; the number of current members at each school is limited to one percent of the student body.
Goals of Blue Key
As an organization, Blue Key couples action with principle and provides role models by bringing together a cross-section of students with outstanding scholarly attainments, exemplary leadership skills, and the highest standards of moral character and citizenship. Blue Key members express leadership through their engagement in service activities that enhance the welfare and reputation of the institution and greater community.
In addition Blue Key fosters strengthened relationships among students, faculty, administrators, and staff, believing that student organizations not only contribute to personal growth and individual learning but also enrich campus life as a whole.
Blue Key Insignia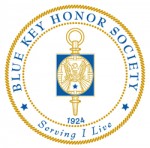 The official Blue Key is an oblong Waldemar key-charm; on the smooth surface appears an oval with raised border. Within the oval is a cross. Superimposed on the cross is a spread eagle. Below the eagle on the lower point of the cross is a star. All of these symbols are in gold relief. Outside of the oval in which these symbols appear, the key is brilliant azure blue French enamel.
The colors of Blue Key Honor Society are azure blue and gold.
The official seal has the Blue Key design as its basis with the full name Blue Key Honor Society around it.
The certificate of membership, or shingle, bears the official Blue Key design in color and certifies that the person whose name appears thereon is a registered member of Blue Key.