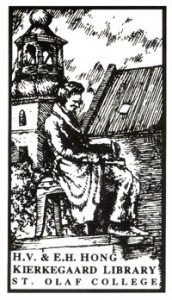 The Reed is an undergraduate philosophy journal about Existentialism published by Carleton and St. Olaf students. Its purpose is to encourage undergraduates to participate in a constructive discourse about Existential thought and scholarship. It accepts submissions during the winter and is printed in late spring. It is distributed to philosophy departments all over the world, and past publications are available online.
Since The Reed was established in 1998, it has been associated with the Hong Kierkegaard Library. The director of the library, Dr. Gordon Marino, is the adviser and spiritual father of the journal. The library itself is a special collection that serves anyone who is interested in the writings and ideas of Søren Kierkegaard, the nineteenth-century Danish philosopher and founder of Existentialism.
For more information about the Hong Kierkegaard's collections and research opportunities, please visit the website here.