Into Tamale with fun and style
Jan 7, 2019.
On day five, we awoke to a brisk morning at 7 A.M. for a breakfast of oatmeal, eggs, and fresh fruit. The workers were incredibly kind and accommodating, and following our breakfast we loaded into the bus and started our journey to Tamale.
Early on in our drive, we came across a group of hawkers (men and women with large baskets of food balanced delicately on their heads) and decided to buy papaya, bread, plantain chips, and bananas to tide us over for the long bus ride ahead. Though we begged Professor Iddrisu to stop, he continued to purchase bag after bag of papaya (the remains are probably still spread throughout the bus). After making only a few purchases, we had dozens of hawkers lining the windows holding out their goods for us to see. It was an incredible sight to behold.
Our first stop on the way to Tamale was at a monkey sanctuary in the small village of Buaben. After unloading from the bus, we had a bit of time to explore before the jungle tour was to start. Students saw a group of pigs, chickens, and goats tearing through the jungle just off the main road of the village.
Following this bit of excitement, we met our guide, who was to lead us through the trails and introduce us to the monkeys. Before we even made it to the edge of the jungle, a group of Moaner monkeys met us to seek the bananas we carried with us. This specific type of monkey is incredibly social and loved to eat bananas right out of our hands.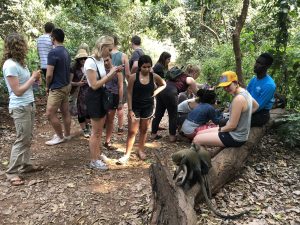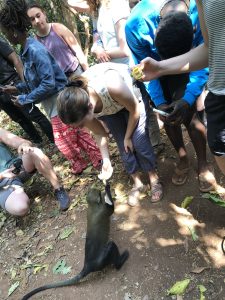 Unexpectedly, a monkey scaled Fernanda's legs, and as it made its way to her shoulder, she tweaked out and launched the banana she was holding into the jungle – the monkey was quick to follow the streak of yellow, leaving Fernanda slightly shaken, but excited.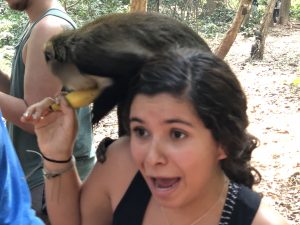 For the next hour, we explored the jungle and interacted with dozens of monkeys who loved to climb onto our shoulders and eat the bananas we were feeding them. This was a major highlight of the trip and was an experience that goes unmatched by any animal interaction we could have in the states.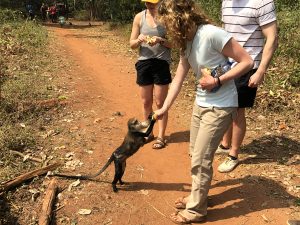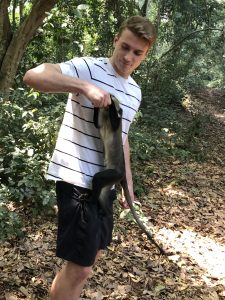 The monkeys are neighbors and buried like humans when they die. The chief priest and the Virgin priestess lie with them in death.
While in the woods, three little village boys befriended us and we happily joked around with them and (per their request) took many photos with the confident young boys.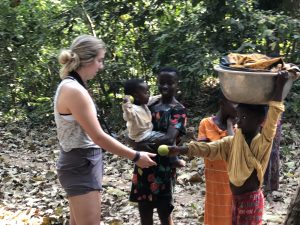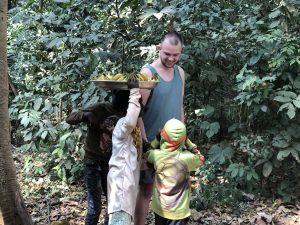 As we left the sanctuary, we meet a young woman from Spain who was touring Ghana on a scholarship from her university. After some conversation, she asked if she could grab a ride with us to Tamale to complete work she had started – installing solar panels on a local school.
Our other major stop on our journey was to the second largest waterfall in the country of Ghana. We were able to see two sets of falls and cool off a bit in the presence of an enormous body of falling water.
The scenery and experience were incredible and all of us enjoyed it thoroughly – until we had to hike 153 stairs back to the car, leaving us all gasping for air.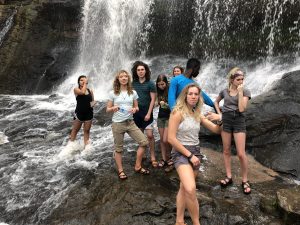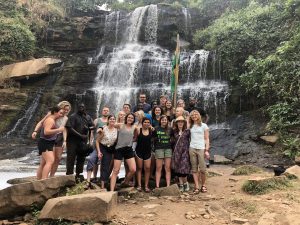 Finally, we arrived in Tamale, where we stopped at a local hotspot for dinner where there were plenty of locals and music to make the waiting an enjoyable experience.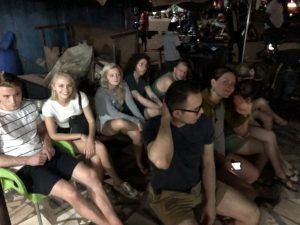 After receiving our food, we made our way to the hotel and got situated for the night.