Sunday, April 8th
Today, we had a beautiful study day in Sydney to reflect on the past week since Spring Break ended! We also used it to study for the second exam of the semester, coming up later on this week.
Monday, April 9th
Today, we received two lectures from Charmaine and Jason Mumbulla about Aboriginal Australians in contemporary society. While we have received a lot of information about Aboriginal history in Australia, it was amazing to begin addressing their situation in the present. Following a brief timeline outlining significant Aboriginal events, we examined and challenged a number of the stereotypes that non-aboriginal Australians hold against the Aboriginal population.
Tuesday, April 10th
Today we took a train to visit Western Sydney University to listen to a lecture by Dr. Wayne Fallon, who spoke to us about how economics and the environment were connected. With this introduction, we spent the rest of the afternoon engaging in conversation and interesting projects with business students from the University! The projects surrounded first what global environmental issues we considered most prevalent, and how those global issues could be resolved through business, a new system, the economy, new laws, etc.
Some groups believed that food waste was a big global problem while others thought that nitrogen leaching or marine plastic pollution deserved attention. With these ideas, we collaborated with the business students to find different systems good enough to implement on a major scale to solve each of these issues, like rating systems, more enforced laws, etc.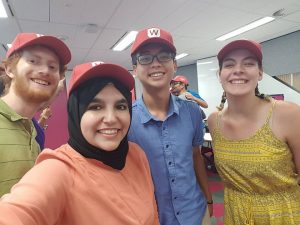 Wednesday, April 11th
Today's only activity consisted of completing an exam at Charles Darwin University. This provided an excellent opportunity to reflect on coursework from the past few weeks and make important connections between the different disciplines of study. Afterwards, we were free to explore Sydney for the rest of the day, which involved many of us traveling to the famous "Bondi Beach" and exploring the Circular Quay, including the Sydney Opera House Sydney's Botanic Gardens.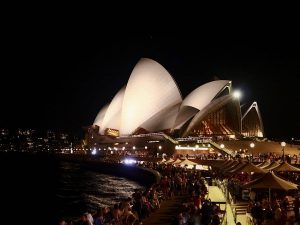 Thursday, April 12th
Today was purely a travel day to make our flight from Sydney to Brisbane, finally retiring to our Brisbane YHA accommodation in the afternoon. We took our free evening time to buy groceries, check out the pool, do laundry, and generally relax before more traveling in the upcoming day.
Friday, April 13th
Today, we started our day off early to depart for North Stradbroke Island from the Brisbane YHA. Because there is no bridge connecting the island to the mainland, we boarded a ferry that took us to North Stradbroke Island. Upon arriving on the island, we drove to the Moreton Bay Research Station, where we would be staying for the next few days. Following a brief orientation to the facility, we immediately jumped into a series of lectures, presented by Dr. William Loh. that covered "Primary Production of Marine Flora" and "Introduction to Mangrove Ecosystems."
After the lectures, we took a break to conduct a field survey of the Mangrove populations at Myora Springs. Here, we investigated the relationship between distance from shore and several different variables involving the mangrove trees. It was fun to immediately begin applying some of the information we had learned just a couple hours earlier!
After finishing our survey, we returned to the Moreton Bay Research Station and concluded our night with an additional set of lectures covering Sand Island Ecology, Geology, and Hydrology. Overall, it was an exhausting yet productive day of travel and work!
Saturday, April 14th
Today was the first day waking up in beautiful Moreton Bay! After breakfast, we all headed out, led by William Loh, for a relaxing swim in Blue Lake, a freshwater lake that provides a window into the island's water table (otherwise known as a "window lake"). We hiked back to then travel to the beach, and finally Brown Lake for swimming. Brown Lake is called this not because of mud or silt, but because the tannins from the trees growing beside it leaked into the freshwater, much like tea leaves do, staining it a brown color. Unlike the Blue Lake, Brown Lake is solely dependent on rainwater to maintain its water levels (known as a "perched lake"). I speak for the entire group when I say we really needed these relaxing swims to take a break from the numerous lectures from the previous day. We greatly appreciate everything that William has helped us with this past week in North Stradbroke Island!