I present to you, the 2019 Oslo Internship Reflection Seminar Students. If you would like to read more about this program, read this post.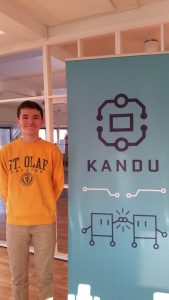 Andrew Jeon '21
Majors: Computer Science, Economics
Concentration: Nordic Studies
Internship: Kandu (Norsk Data Ungdom)
Kandu is an organization with 7000 members across Norway, and has hundreds of volunteers that help arrange a gaming festival called The Gathering which is held every Easter in Vikingshipshuset in Hamar. They also arrange other events for "digital culture" throughout the year, and are one of Norway's largest youth organizations.
One of my main tasks this month is related to a government proposal about how children should have access to extracurricular activities for free across the country. Since Kandu is a youth organization that organizes events for youth interested in digital culture, we will be advocating for this proposal, and also explain how youth culture is changing in Norway and globally with respect to technology.
It is very interesting to learn about how a non profit organization functions in Norway, as well as the political system in relation to them. This is a very valuable experience for me being able to see what working in Norway is like, since I have interest in potentially living here in the future.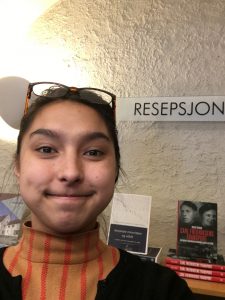 Annika Lundeberg '19
Majors: History, Race & Ethnic Studies
Concentrations: Nordic Studies, Africa and the Diaspora
Internship: Norwegian Center for Holocaust and Minority Studies: A research, education and documentation center in Oslo focusing on the Holocaust, other genocides and the situation of minorities in contemporary societies.
I am assisting museum professionals with research on the subject of the Norwegian Holocaust experience and working to proliferate Holocaust awareness within the Norwegian education system for both students and teachers. Additionally I will be looking into the Norwegian minority experience in both the past and present. I will be helping with book cataloging, working the information desk in the museum, and preparing and executing the International Holocaust Day Commemoration event at Akershuskaia on January 27th.
This internship ties into my History and Race and Ethnic Studies background. It speaks directly to my interests in developing a museum culture that highlights minority voices that were once ignored as well as addressing ongoing minority experiences in the world. This experience has opened my eyes to the option of post graduate museum work outside of the American historical context as well as how museums function differently abroad.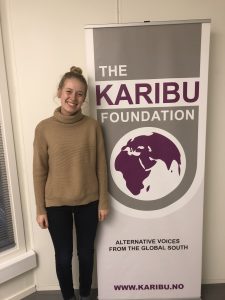 Britta Weber '19
Majors: Norwegian, Religion
Concentrations: Nordic studies, Middle Eastern studies
Internship: The Karibu Foundation: this Norwegian NGO builds partnerships with communities and organizations to uplift alternative voices in the Global South. It funds many projects and movements in the Middle East, Africa and South America.
The Karibu Foundation is an organization that seeks to provide a platform for alternative voices in the Global South that challenge the dominant paradigms of power, development, and distribution. They provide funding for grassroots organizations, and amplify the causes of important social movements that seek to dismantle oppressive power-structures and systems, thus inspiring largescale peacebuilding and conflict resolution.
This internship has been an incredible learning experience for me in terms of understanding how the academic realm of peacebuilding and conflict resolution can applied to a professional setting. I have a growing interest in the field because of my interest in religion and its intersection with culture and politics. It has been incredibly helpful to forge relationships with others in this profession through my internship, and to understand how their passions for social justice, convictions of faith, or interests in foreign affairs and international relations can find a home in this type of work. I hope to pursue a career that focuses its ultimate goal on helping others and encouraging our world to become a more peaceful place – this experience has emboldened this passion in many ways, and I hope that it will serve as a catalyst for opportunities of learning and career steps to come.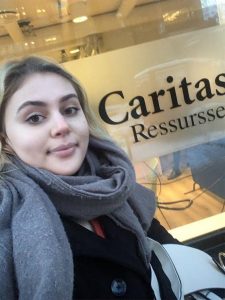 Eleni Mahlis-Miller '20
Majors: Music, Norwegian
Concentration: Nordic Studies
Internship: Caritas Norge
Caritas International is is a confederation of 165 Catholic relief, development and social service organizations operating in over 200 countries and territories worldwide. Collectively and individually their mission is to work to build a better world, especially for the poor and oppressed. The branch in Norway, Caritas Norge, specifically focuses on providing assistance and resources to immigrants and refugees in Norway. They offer Norwegian language classes, assistance with residency, legal help, and quite a few other things.
I am working as the receptionist at Caritas' Ressurssenter, or resource center. I vet everyone who comes in, ask them what they need, point them to the person who can speak their respective language, etc. I am essentially acting as a liaison between the folks who come in and the volunteers who work with them. Sometimes I offer assistance directly in terms of answering questions about Caritas. The organization is test-running this position with me, because they've never had a receptionist at the ressurssenter before.
This position requires a great deal of language dexterity. I utilize my Norwegian and Spanish language skills with this position, given that I must constantly switch back and forth between the two, as well as English. So I take what I've learned through my Norwegian studies at St. Olaf as well as the University of Oslo and implement them in this work. The environment also teaches me a great deal about current politics and events in Norway, complementing the Nordic Studies concentration. I would perhaps like to work with language in the future, whether it's living in a country that speaks the respective language or assisting people in those languages. It's a largely diplomatic position as well, acting as a bridge between Norwegian culture and those seeking assimilation into Norwegian culture.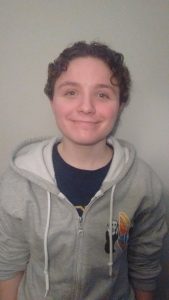 Elizabeth Stang '20
Major: Norwegian
Concentration: Film Studies
Internship: NORAM (The Norwegian-America Association)
Provides scholarships for Norwegians looking to study in America and Americans looking to study in Norway.
My internship duties include researching Canadian universities, posting articles to social media, translating Norwegian webpages into English, and writing blog posts in Norwegian about St. Olaf. In completing these duties, I am helping with the companies geographical, linguistic, and social expansion.
This internship is connected to my Norwegian studies at St. Olaf, as it is allowing me to practice writing, speaking, and hearing Norwegian in a native context. As far as my future plans go, this internship gives me valuable workplace experience which I can use in future jobs and teaches me how to work with people. It also improves my conversation skills in both languages, which will definitely come in handy in the future.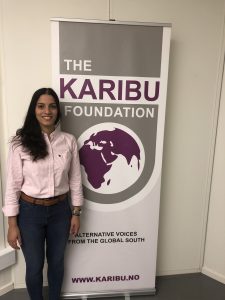 Israa Khalifa '20
Majors: Norwegian, Sociology/ Anthropology
Internship: The Karibu Foundation
The Karibu Foundation supports alternative voices from the Global South that provide alternatives to the dominant paradigms of power, distribution, and development.
I am assisting with a wide range of tasks ranging from administrative to advocacy and project proposals processing. I have assisted and contributed to the development of the foundation's website, reaching out for partners on responses to request for sharing impact stories in 2018 for the foundation's annual report. I have had a class on 'peace and nonviolent resistance' taught by my internship supervisor at St. Olaf in 2018. My internship is a continuation of a different dimension of that area of studies. Where in classrooms I come to learn about the theory behind conflict and conflict resolutions, where at my internship I have the insight of working with theory on the 'field.'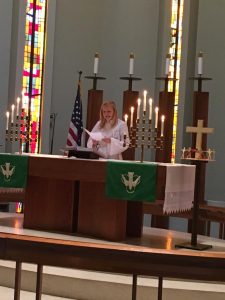 Lauren Kroschel '20
Majors: Math, Religion
Internship: American Lutheran Congregation: An international church that welcomes all english speakers. It is a gathering place for many people visiting Oslo for short term and long term visits. They are very active in the community with a worshiping congregation of 100+ people every Sunday.
I am working with the youth congregation by planning and leading three events throughout the month. The goal of these events is to grow the youth department and spark interest events like this. I have two events for youth ages 12-18 and one for ages 3-12. This internship is extremely valuable in my discernment process of figuring out if I want to become a pastor and follow my religion major into ministry.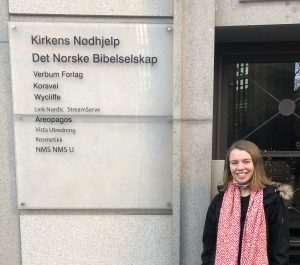 Lauren Peterson '19
Majors: Sociology, Anthropology
Concentrations: Management Studies, Education (TEFL Certification)
Kirkens Nødhjelp is an ecumenical non-governmental organization that provides emergency aid while both developing long-term structures for economic growth, gender equality, and environmental justice, and advocating for just Norwegian policies. As an international organization, there are 17 different country offices and campaigns for the UN's Sustainable Development goals.
As a research intern with the Policy and Society Department, the central purpose is centered on advocating for just Norwegian policies. I am researching and contributing to two main projects–climate justice and Norwegian weapons exports–that will be used for campaigns to influence Norwegian policy development.
After I graduate this spring, I plan on working in the public sector and eventually pursuing a masters degree in Public Policy. This experience is fantastic because I am able to get hands-on experience with the inner-workings of policy for some of the most challenging global issues while also learning new perspectives. Every day, I've been able to apply my prior research skills and knowledge from courses on human rights and international development, which makes my contributions to the organization more meaningful on both a personal and professional level.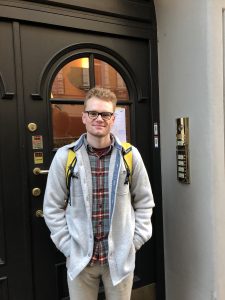 Matt Whear '20
Major: Mathematics
Concentrations: Statistics, Management Studies
Internship: The American Chamber of Commerce (Norway): an independent business networking, information and assistance organization promoting the interests of 240 Norwegian, American and international member companies.
I will be working on a variety of different projects for AmCham including compiling financial reports, writing publications, and analyzing American business performance in Norway. I will also have the opportunity to attend member networking events and leadership development presentations. This work will allow me to apply the skills and analytical techniques I have learned in my math, stats, and management courses at St. Olaf. The professional development and international business experience that I gain through this internship will be valuable for the rest of my career.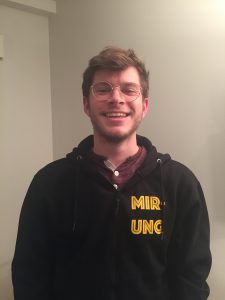 Mikkel Undlin '19
Majors: Music, Norwegian
Concentrations: TEFL
Internship: MIR
MIR (Multikulturelt Initiativ- og Ressursnettverk): A resource network aimed at supporting families in Oslo with refugee or immigrant background through various projects, including after school homework help sessions, family activities, and daycare programs.
My work at MIR consists mostly of planning and leading English courses for families who are interested; outside of those classes, my time is spent with English learners at several after-school homework help sessions.
As an aspiring ESL teacher, this internship has given me an immensely valuable experience in working with English learners of all different kinds of backgrounds. Throughout my time at MIR, my skills in communication, problem solving, and leadership have been significantly refined.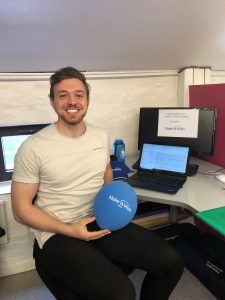 Nathan Sande '20
Majors: Biology, Norwegian
Concentration: Nordic Studies
Internship: Make-A-Wish Norge
The Norwegian branch of the Make-A-Wish foundation works to fulfill the wishes of children and young people (between ages 3-18) from Norway who are critically ill, in addition to collaborating with Make-A-Wish International to fulfill Norway-based dreams. Our main goals include the cultivation of hope, strength, and joy for children with life-threatening illness.
Although the Norwegian branch was founded only a few years ago, we collaborate on a global scale with organizations and fundraisers from all over the world. Because of the small size of the team, I actually have a decent amount of responsibility. Throughout January, I will be part of a wish-planning team, organize a fundraiser, and coordinate with celebrities.
My career goals involve medicine, and while the work undertaken by Make-A-Wish isn't traditional healthcare, the wish process can still have a significant impact on the health of children. Real-world experience in a global organization such as Make-A-Wish has is readily applicable to many fields, especially healthcare. Using mostly Norwegian in the workplace has enhanced my interpersonal skills and experiencing a work culture different from that of the U.S. is certainly eye opening. Although I hope to go to medical school, this experience has made me aware that non-profits provide junctions of countless skills and interests.
Salem Weitzenhoffer '21
Majors: Vocal Music Education (BM)
Concentration: Race and Ethnic Studies
Internship: MIR | Tonsen Kirke
MIR is the Multicultural Initiative and Resource Network: an organization that provides advice and guidance on various topics and has a broad network of resource persons with diverse backgrounds. While I am working with MIR, I will be tutoring English language learners from various countries and backgrounds. I hope to connect this experience to my Education and RACE courses to apply knowledge from these courses to this experience while also observing this experience to expand my world views to become a more global educator.
Tonsen Kirke is a Norwegian Lutheran Church that takes a modernized view on traditional Norwegian and Lutheran values. At Tonsen Kirke, I will shadow the music and activities directors to learn about how they put together activities and encourage youth engagement. This experience will be very applicable to my Music degree because of my opportunity to view music in the setting of a Norwegian Lutheran church and take part in the production of it.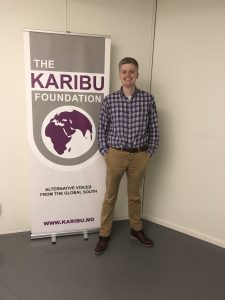 Teigen Swanson '19
Majors: Political Science, Norwegian
Concentration: Nordic Studies
Internship: The Karibu Foundation
The Karibu Foundation supports alternative voices from the Global South that provide alternatives to the dominant paradigms of power, distribution, and development.
As an intern at the Karibu foundation, one of my biggest responsibilities was evaluating a grant proposal and writing a recommendation to the Board. I have also helped updating and managing the new Karibu website, specifically moving articles from the previous website domain to the new one. Britta, Israa, and I also collaborated on an impact statement for the Karibu end of the year report.
This internship has given me an opportunity to apply my coursework to a real-world setting. Within the field of political science I am particularly interested in international relations and peace studies, and working with Karibu has given me the opportunity to learn more about their partner organizations and different peace movements that are happening throughout the world. It also gave me the opportunity to use the Norwegian I've learned at St. Olaf in a professional setting.