Dr. Grace E. Cho is a developmental psychologist and Professor of Psychology at St. Olaf College. She is also affiliated faculty of the Family Studies and the Gender and Sexuality Studies Programs. She received her B.A. in Psychology from the University of California, Santa Cruz, and her Ph.D. and M.A. in Developmental Psychology from the University of Illinois at Urbana-Champaign. Professor Cho teaches courses in child and human development, diverse families, and research methodology. At home, she enjoys spending time with her two children (Gabriel & Nicholas), partner (Jeremy) and 3 cats (Lucy, Simba, & Kirby).
Dr. Cho's research focuses on the variety of sociocultural factors and parenting processes that shape children's emotional and self development. For example, her research team is examining mothers' and fathers' beliefs about young children's development in S. Korean and American families, and their responses to children's expressions of emotion. She also examines parent-child storytelling as a window into meaning-making and a tool for emotion socialization. Her recent work extends to the emotional and self development of emerging adults. She examines how college students recollect and narrate the highs, lows, and meaningful events in their past and their associations with psychological and emotional well-being.
Dr. Cho is author of Self-Esteem in Time and Place: How American Families Imagine, Enact, and Personalize a Cultural Ideal (2018). New York, NY: Oxford University Press.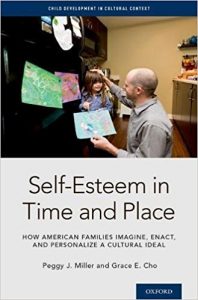 Self-Esteem in Time and Place is based on an in-depth systematic program of research conducted with coauthor Peggy Miller on families with young children. It describes the beliefs and practices of American families as they worked with cultural ideas and ideals about self-esteem that surrounded them and reveals how self-esteem became a touchstone of American childrearing in the early years of the 21st century. The book was nominated for multiple awards, including the American Psychological Association's Eleanor Maccoby Book Award in Developmental Psychology, and the Society for Psychological Anthropology's Stirling Prize for Best Published Work. The book can be ordered from the following sites:
Oxford University Press: https://global.oup.com/academic/product/self-esteem–in-time-and-place-9780199959723?q=self-esteem%20in%20time%20and%20place&lang=en&cc=us#
Amazon.com: https://www.amazon.com/Self-Esteem-Time-Place-Personalize-Development/dp/0199959722/ref=sr_1_4?ie=UTF8&qid=1500060616&sr=8-4&keywords=self-esteem+in+time+and+place