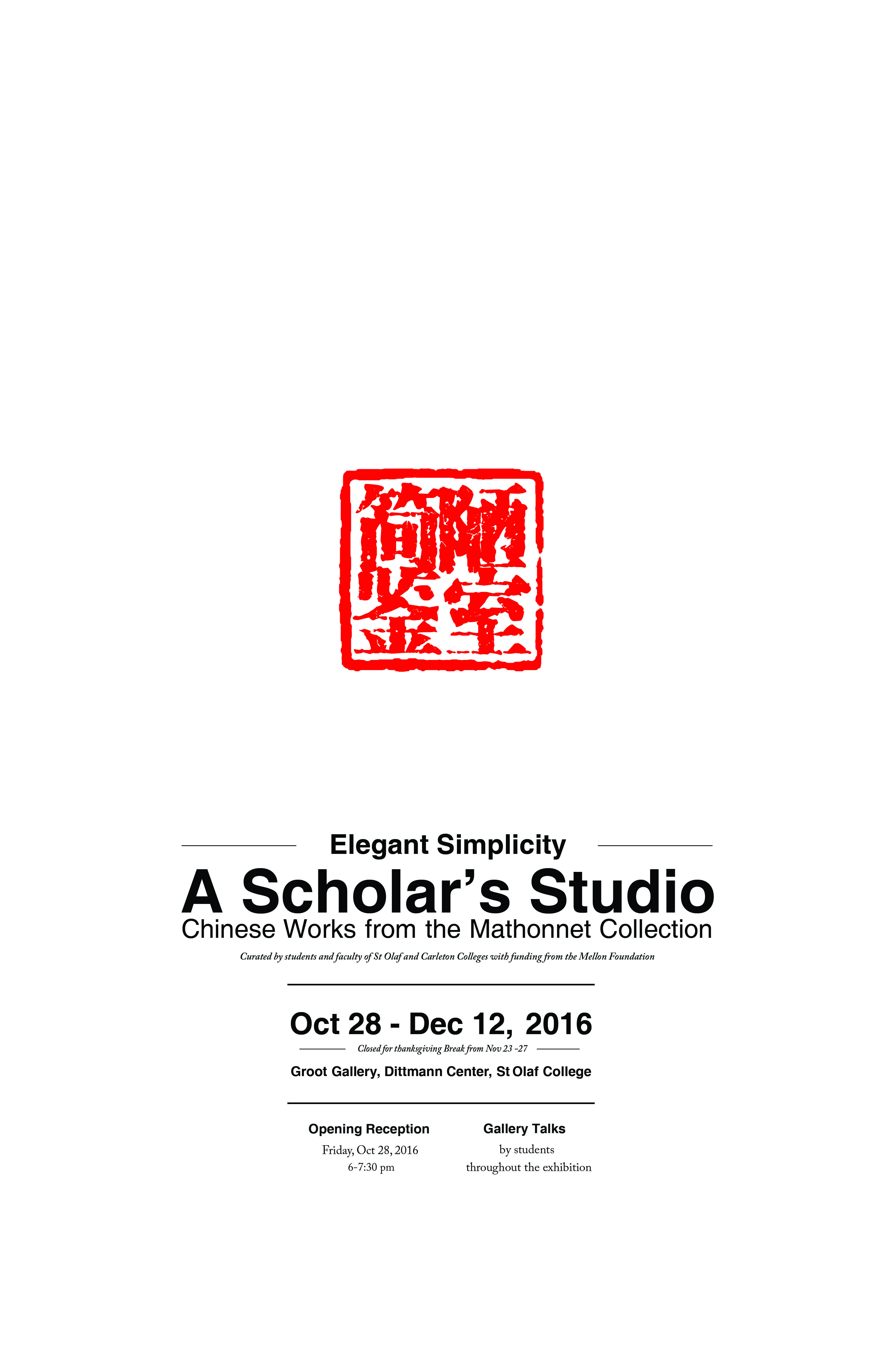 About the Exhibition
The items on display in this exhibition are in large part due to a generous donation by Sophie and Stephen Mathonnet-VanderWell on behalf of Sophie's parents Roger and Marie-Claire Mathonnet. The Mathonnets were responsible for collecting these works during the decades in which they lived and worked in Japan and China. We would also like to give special thanks to Richard Bodman and Hongyuan Lang for their generous loan of furniture, pieces of calligraphy and a brush stand for the exhibit.
The students involved in curating this show come from two classes – Professor Kathleen Ryor's Arts of China and Professor Karil Kucera's Visual Culture in Modern China – and from both sides of the Cannon River. They include: Emma Beahler, Jamie Carter, Jonathan Chow, Nutthanai Chowwiwat, Zoe Denckla, Eden Faure, Rachel Foster, Claire Gagnon, Joshua Garver, Jon Gillespie, Noah Goldman, Allison Gronli, Julia Gross, Michael Happ, Will Henkes, Ingrid Hofeldt, Gus Leinbach, Jie Lin, Junxiong Liu, Wendy Lo, David Mayhall, Hannah McClure, Daihui Meng, Katrin Ree, Kayla Rudess, Noah Scheer, Leni Schneider, Tim Schoch, Claire Seymour, Ben Steely, Yankun Tai, Melanie Thompson, Kaixing Wu, Yue Wu, Keyu Yan, Euna Yang, Stephanie Yang, Dylan Zeng and Gege Zhang. We would like to thank the Mellon Foundation for its generous support of this collaborative curricular project through a Broadening the Bridge grant.