National Aerothermochemistry Laboratory
We have an ongoing collaboration with the groups of Simon North and Rodney Bowersox at the Texas A&M University National Aerothermochemistry Laboratory (NAL), where we have access to multiple tunable pulsed laser systems and high-speed flow facilities to perform demonstration measurements in wind tunnels and combustion systems. Applied optical diagnostics based on planar laser induced fluorescence is a strong area of interest at the NAL, and development and application of measurement methodologies intended for high-speed flow applications presents a natural opportunity for collaboration. Additionally, this interaction has a positive impact on St. Olaf undergraduates by exposing them to a graduate level research environment.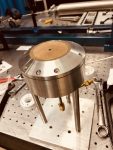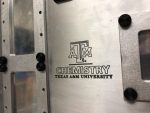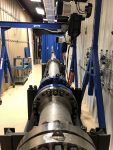 Center for Interdisciplinary Research
We established a research collaboration with Matt Richey from the Mathematics Department facilitated by the Center for Interdisciplinary Research (CIR) at St. Olaf. The CIR is a grant-supported structure that fosters problem-based interdisciplinary research in statistics and computational mathematics by engaging faculty and students between the different academic disciplines. This collaboration involved the development of an algorithm to analyze Molecular Tagging Velocimetry (MTV) fluorescence images based on grid parameterization to measure velocity fields in high-speed flows with high space resolution.