Neighbors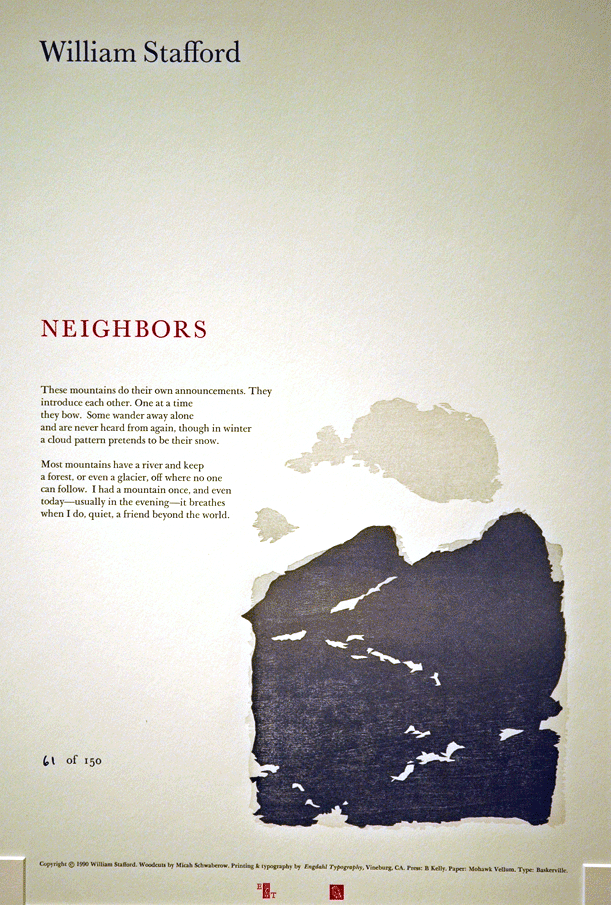 Neighbors, Micah Schwaberow, woodblock illustration-relief letterpress, 1990
Small works with intricate detail are one of Micah Schwaberow's specialties. By working in a carefully confined area, he distills his message to a commonplace yet personal moment. Schwaberow calls attention to the fleeting magical events that surround us all in daily life. This reverence toward what is too often unnoticed in everyday living manages to capture the diverse array of emotions enumerated by the human spirit.
In this work, the juxtaposition of Stafford's poem of words and Schwaberow's visual poem represents the title of the work. The poem and the print are neighbors that live in community with each other, sharing a conversation on companionship and simple living. The shapes in the print at first glance appear to be two mountains and a cloud. The shape of the apparent cloud also reveals the outline of a third snow-capped peak, as Stafford's poetry suggests. Stafford writes that his mountain is unlike those that have rivers, forests, and glaciers–Schwaberow's print seems accordingly bereft of these decorations. The unprinted detail on the mountain's face alludes to a switch backed trail, inviting the viewer into the community of the twin peaks–and beyond to the clouds, snow, or even the summit of one's imagination.
Michael Schwaberow is one of the most important American students of Toshi Yoshida. He studied at Yoshida's studio in Tokyo during the early 1980s under both Toshi and his son Tsukasa. At first he spoke no Japanese, but his patience and persistence in learning the tradition of Japanese printmaking is visible in his works. He later taught at the Miasa Bunka, a cultural school in the mountains of Japan where Yoshida took his best students to instruct others. Schwaberow currently lives in Santa Rosa, California where he uses the geography of Sonoma County as inspiration for works that blur the lines between woodblock printing and watercolor painting.
Todd Frederick and Mang Vang
---
Related Essays
---