Lioness B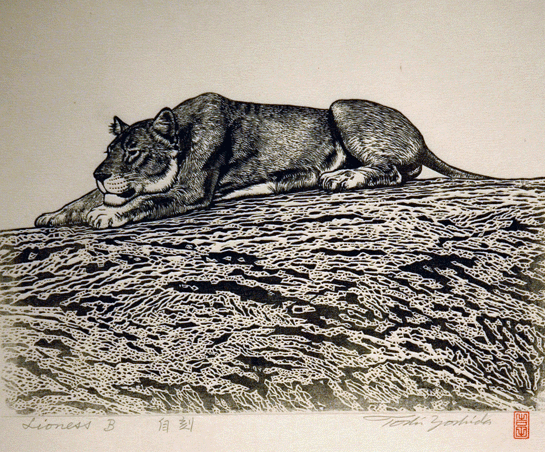 Lioness B, Toshi Yoshida, woodblock print, 1974
Toshi Yoshida is a well-known Japanese printmaker, the son of Hiroshi Yoshida. He was born in 1911 and learned the arts from his parents. Like his father, Toshi had a passion for traveling, and many of his prints are inspired by places around the world, such as this print, Lioness B. This print is also typical of Toshi's attraction to landscape and animal subjects. Toshi was a prolific printmaker, and his pieces enjoy a great deal of popularity today. The artist died in 1995. This Toshi Yoshida print was generously donated by Eugene and Margaret Skibbe, graduates of St. Olaf College in 1952 and 1953, respectively.
Lioness B is a woodblock print, a popular Japanese art form which employs hard outlines and may or may not use color. This particular print is a detail from a larger work entitled Peaceful Wild Animals. That piece shows a lion and two lionesses on a rock surrounded by African plains. It is in color, mostly in gray and ochre. Possibly after realizing that the color in the print detracted from the detail, Toshi began to print black and white partial prints, such as this one. In the end, six different versions were created.
This smaller piece of the larger work more easily showcases the detail that Toshi was so apt at creating. According to the donor Eugene Skibbe,  "Toshi was able to give a three dimensional appearance to the lion's musculature and entire body, as well as portray the alertness of the animal." In addition to the intricate muscles and hair detail on the lioness, Toshi used an intricate pattern to portray the rock that the lion rests on. His love of landscape is evident in the way he gives the same amount of attention to the rock as he does to the lioness.  Unlike many of his prints that focused on a human element, the print Lioness B shows nature in and of itself, away from all human influences.
Evan Pierson and Britt Meyer
---
Related Essays
---