In general, St. Olaf and Northfield are very safe. However, the college has extra resources to ensure that students are always supported and safe both on, and off-campus.
On-Campus:
Public Safety
Public Safety provides 24-hr security for the St. Olaf campus, all throughout the year. Students should never be afraid of Public Safety — they are not the police. Public safety officers are trained in handling emergency situations and they are here to keep all students, faculty, and staff safe.
Calling Public Safety On-Campus: 3666
Off-Campus: (507)-786-3666  *it is a good idea to save this number to your mobile phone!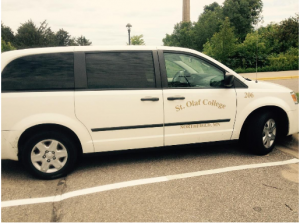 Safe Ride 
Safe Ride is a program where students can get a ride or walking escort anywhere on-campus and to areas immediately adjacent to campus. Feel free to call if you are unwell, injured, or if it's too dark or cold to walk to your destination. Remember, Safe Ride is for your safety, not your convenience. Safe Ride will NOT transport groups of people or provide transportation to downtown locations. If you need to get into town, take the bus! Operation hours are at night from 7 pm to 1 am during the academic year.
Calling Safe Ride On-Campus: 3666 (same as Public Safety)
EMTs
EMTs The St. Olaf Emergency Medical Technicians provide a volunteer first response service to the student body of St. Olaf. All of the active EMTs are registered with both the Nationally Registry of Emergency Medical Technicians as well as the Minnesota Emergency Medical Services Regulatory Board. The St. Olaf EMT's are also a member of the National Collegiate EMS Foundation. The St. Olaf EMTs currently provide a two-person call from 7 pm to 7 am every evening during the academic year, 24-hour call on the weekends, and coverage for special events on campus. The EMTs work closely with St. Olaf Public Safety to make our campus a safer place to live. You will see the EMTs at work during Pause Dances or other events. If you or someone else is sick, find an EMT.
Other Important Resources for Campus Safety:
Counseling Center: 3062
If you are feeling stressed, struggling with any personal issues, or if you just need to talk to someone, you can always contact the counseling center to schedule an appointment with a staff member there. Counseling Center staff are licensed professionals who can help you with a wide range of issues — and everything discussed is CONFIDENTIAL (they cannot tell other people about what you discussed).
Title IX ("Title Nine") at St. Olaf
St. Olaf is committed to promptly, impartially, and equitably addressing and resolving all reports of sex discrimination, sexual harassment, and sexual misconduct. Anyone who has experienced sex discrimination, sexual harassment, or sexual misconduct is strongly encouraged to report this experience to the college. The college will take steps to stop the behavior, prevent its recurrence, and to remedy its effects. It is important to note that this is NOT a confidential resource. Examples of such situations include, but not limited to:
unwelcome sexual advances
rape and other forms of sexual assault
dating violence
domestic violence
stalking
For more information on Title IX at St. Olaf and in the United States, see our Title IX Information page.
SARN (Sexual Assault Resource Network): 3777
If you or a friend experience sexual violence or misconduct, and you are looking for a CONFIDENTIAL resource, contact SARN. SARN takes a stand against sexual assault and relationship violence on the St. Olaf campus through supporting survivors and their friends, raising awareness in the college community, and promoting healthy relationships. SARN advocates are trained students who are equipped with counseling experience and knowledge of resources available to students.
Health Services: 3063
The Health Services office is located on the 1st floor of Tomson Hall. Services are available during the school year (not during breaks) from 9 am -11:30 am and 1 pm-4 pm on weekdays, and are free to St. Olaf students. If you are not feeling well or have a small injury (scratch/cut/scrape), this is a great place to go for free service. Please note, however, that fees may apply for medication, immunizations, TB skin tests, lab tests, and supplies. See this page for a list of services you can receive from the Health Services Office.
Wellness Center: 3487
The St. Olaf Wellness Center is located on the main floor of Buntrock Commons, room 112. The Wellness Center serves as a resource to promote awareness and education on issues relating to healthy lifestyles. We provide prevention and intervention services for alcohol and other drug use and abuse concerns. Peer Educators (PE) who staff The Wellness Center are available to talk with students one-on-one during office hours. Students are encouraged to come in and talk with a PE on any health-related issue. You can visit the Wellness Center to get advice, information about resources, or condoms, and chap-stick! Peer Educators also put on presentations on topics such as nutrition, relationships, sexual health, and mental health. All students are welcome to attend these presentations.
Dean of Students: 3023
Deans serve as consultants to students about student issues and concerns, including personal and academic matters. They are located on the 1st floor of Tomson Hall. The Deans are NOT confidential resources.
Off-campus safety:
Northfield is a very safe town, so do not worry too much about safety issues; the only thing we need to do is make smart decisions. Here are some things to keep in mind:
Do not walk alone at night
Always drive carefully and wear your seat-belt
DO NOT DRIVE AFTER DRINKING ANY AMOUNT OF ALCOHOL!
Never accept a ride from strangers
Lock doors to your bedroom, especially when you are not there
Don't carry a large amount of cash on you
It is illegal to drink alcohol in public places (parks, streets, etc.)
*If you feel unsafe or something happens and your safety is at risk please call Public Safety: (507)-786-3666*
Off-Campus Important Phone Numbers:
Police, Fire & Ambulance: 911 (Emergency)
Northfield Police: 645-4477 (Non-Emergency)
If you are calling from a campus phone, push "9" first (ex. 9-911).
As always, comment below with any questions or concerns about safety!